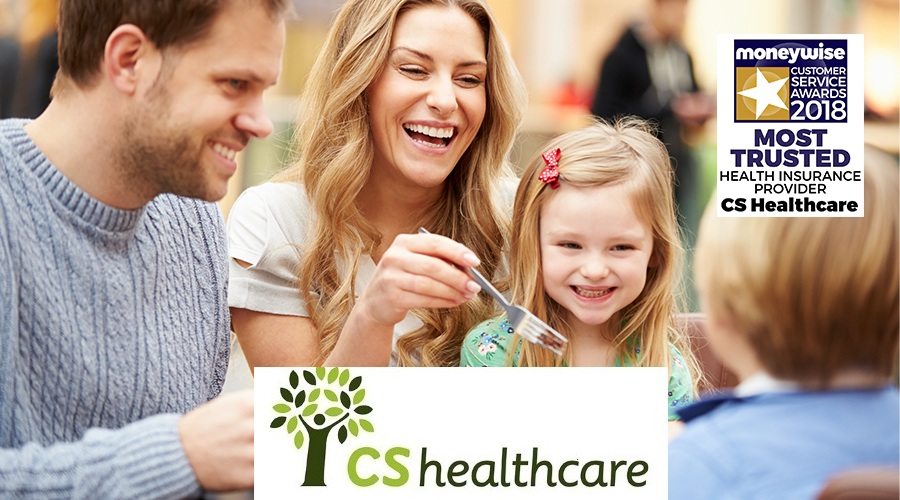 Receive up to 2 months FREE on your health insurance plus a FREE tastecard (worth £79.99) if you join by 28/02/2019, just use promo code 865*.
Our benefits to you
CS Healthcare offers award-winning service, mutual values, fair pricing and 85+ years of expertise to ensure you have access to first-class private healthcare when and where you need it. With CS Healthcare you can also get:
FREE cover for your eldest child until they are 18 years old
24/7 health advice line with GP call back
Lifestyle benefits – discounted holidays, gym membership, spa breaks and more
Our offer
Receive the first 2 months FREE when taking out a your choice policy, or 1 month FREE for HealthBridge plus get a FREE 12 month tastecard membership (worth £79.99) if you join by 28/02/2019*. Use promo code 865 for this offer. Get a quote now.
Our insurance products
HealthBridge is our lower-priced solution designed to bridge the gap between the NHS and private healthcare. Click here to find out more.
Your choice offers a flexible menu of comprehensive cover options so you can create your own personalised plan. Click here to find out more.
About CS Healthcare
CS Healthcare has been dedicated to protecting the health of civil and public servants like yourself since 1929. Discover why our members choose CS Healthcare.
Mutual Society
Unlike many commercial insurers, we are led by our members' needs and interests.
Award-winning service
Voted the UK's 'Most Trusted Health Insurance Provider' in the 2016, 2017 and 2018 Moneywise Customer Service Awards.
Expertise
UK-based health insurance experts with in-depth knowledge of public sector needs.
Fair pricing
We don't individually penalise you by increasing your premiums should you make a claim, so you can rest assured that your premiums won't jump up due to a claim, leaving you to focus on getting better.
"Easy to deal with in times of need. Staff with empathy who make sure everything happens as it should." – one of our Trustpilot reviews, Please see all reviews here.
Terms and conditions
*This offer is available to members of NHS Discount Offers who use promotional code 865 and join between 10th January 2019 and 28th February 2019.
The tastecard unique activation code will be sent out once any free period has expired and at least £30 in premium has been received. For those paying annually, the tastecard activation code will be sent out up to 45 days after any free period has expired. This offer is available to the policyholder only. If you cancel your CS Healthcare policy before this period, this will invalidate the tastecard offer. tastecard membership is subject to tastecard's terms and conditions. By registering a tastecard account you enter into a contract with tastecard and become subject to their terms. For full tastecard T&Cs please visit https://www.tastecard.co.uk/terms-and-conditions. This offer is limited to 20 unique codes and will be available until stocks last. This offer may be amended and/or withdrawn at any time. This offer is not available to policies arranged via a broker. This offer is not available for existing members of CS Healthcare, including those who cancel and rejoin. To take advantage of this offer CS Healthcare members must activate their cards within 30 days of receiving their unique activation code, after this period the unique activation code will be void. The tastecard is non-exchangeable, non-transferable and non-redeemable for cash or any other prize.
The free cover period will be applied as follows. For those paying monthly by Direct Debit the first premium payment will be collected once the free cover period has expired. For those paying annually in advance, the annual premium will be discounted by the amount of months in the free cover period. The maximum joining age is 74 years and 11 months. Full terms and conditions apply and are available on request.
Your eldest child can be added to your cover for FREE until they are 18 years old.
Civil Service Healthcare Society is authorised and regulated by the Prudential Regulation Authority and the Financial Conduct Authority – Financial Services Register number 205346. Our products are covered by the Financial Services Compensation Scheme (FSCS).