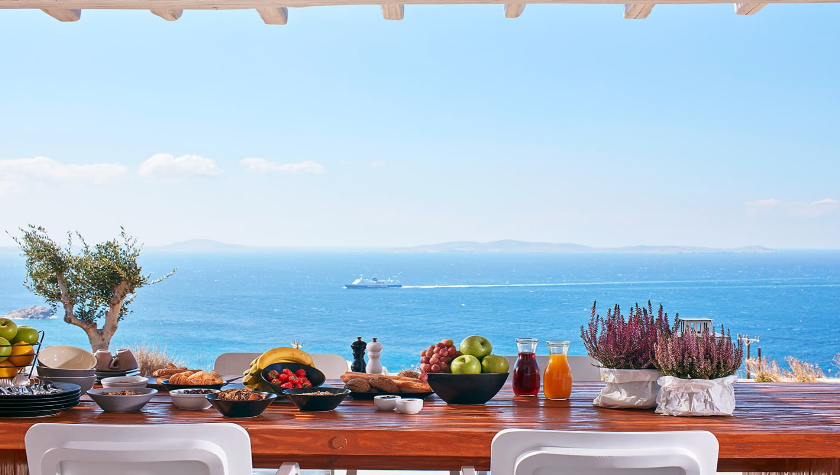 During the summer time it's quite difficult to find a meal that suits you. We mostly look for something light like a sandwich or a salad, but after a while that gets a little boring. Check out these tasty summer meals and find one that will satisfy you!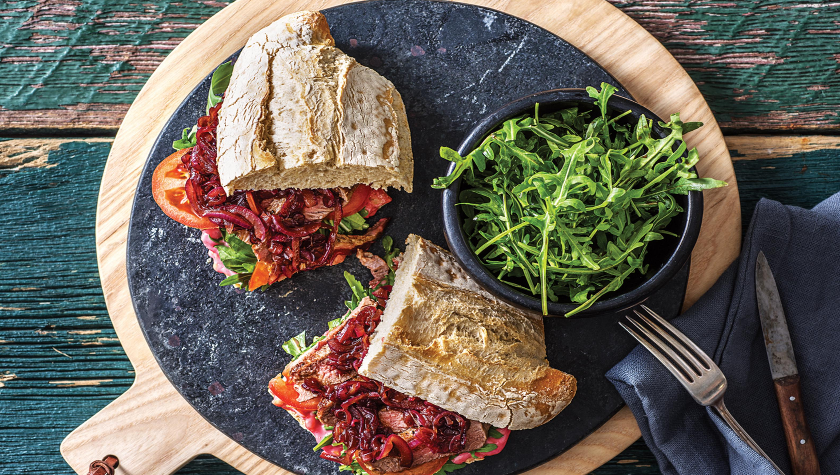 Yes okay, we're bored of sandwiches…
But this isn't just a sandwich, this is a STEAK sandwich – see the difference?
Ingredients
4 minute steaks
1 tbsp olive oil
1 small ciabatta loaf
4 tbsp caramelised onion
Half an 85g bag watercress
Method
Put the grill on. Heat a little oil in a frying pan.
Season both sides of the steaks with salt, then fry for 1-2 minutes on each side.
Meanwhile, slice the ciabatta in half lengthways and grill the cut sides until golden.
Drizzle the toasted ciabatta with olive oil, spread the bottom half with the onions and sit the steaks on top.
Cover with the watercress and close the sandwich with the other half of the ciabatta.
Cut into four sandwiches and serve two per person.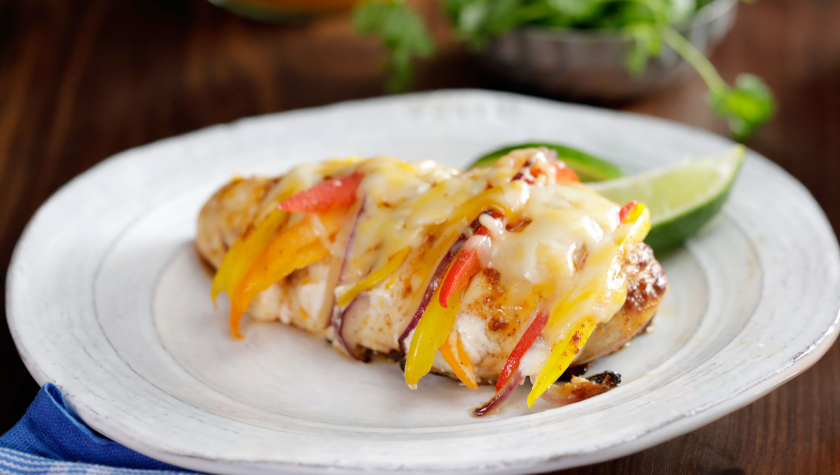 Ingredients
4 skinless chicken breasts
4 tsp chipotle paste
1 small yellow pepper, deseeded and sliced into thin strips
25 g (1oz) tortilla chips, broken into large pieces
2 tbsp salsa
75 g (3oz) cheddar cheese, grated
Method
Preheat oven to 200°C (180°C fan) mark 6.
Slash the tops of the chicken breasts to make deep incisions, but don't cut all the way through.
Put the chicken in a bowl with the chipotle paste and some seasoning, then toss to coat.
Put the coated chicken on a baking tray, cut side up.
Stuff the cuts with pepper slices and tortilla chips.
Divide the salsa over the tops and sprinkle with the grated cheddar.
Cook in the oven for 20-25min, or until cooked all the way through and golden.
Scatter over the coriander leaves
Serve with rice and guacamole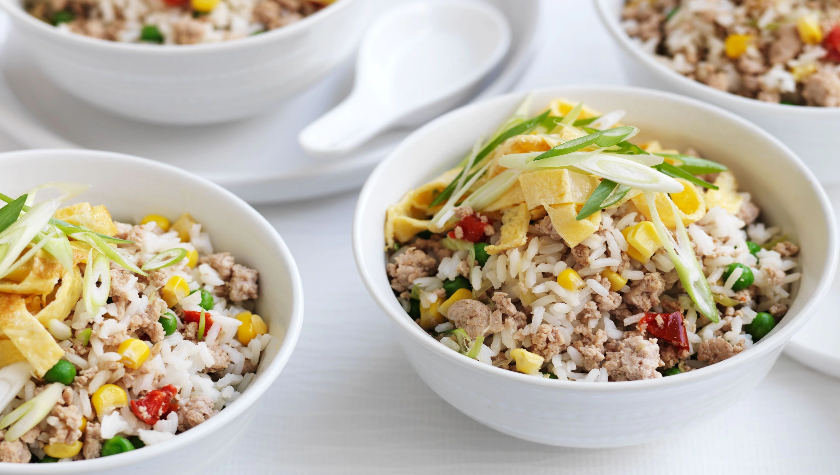 This recipe is easy to make and filled with flavour!
AND it's a great source of protein for you fitness freaks.
Ingredients
1 tbsp olive oil
1 onion, finely chopped
1½ tbsp garam masala
2 garlic cloves,crushed
2 250g pouches Tilda brown ready-cooked rice
400g leftover roast turkey or cooked turkey breast, shredded
Juice 1 lemon, plus wedges to serve
200g baby leaf spinach
Large bunch fresh coriander,chopped
Natural yogurt to serve
Method
Heat the oil in a large frying pan and fry the onion for 5 minutes until starting to soften.
Add the garam masala and garlic and fry for 1-2 minutes more.
Add the rice and turkey with a splash of water and warm for a couple of minutes, then squeeze in the lemon juice and stir in the spinach in 2 batches, letting the first wilt so you can fit it all in the pan. Add 
most of the coriander and stir in well.

T

aste, season and sprinkle with the remaining coriander, then serve with the lemon wedges and yogurt.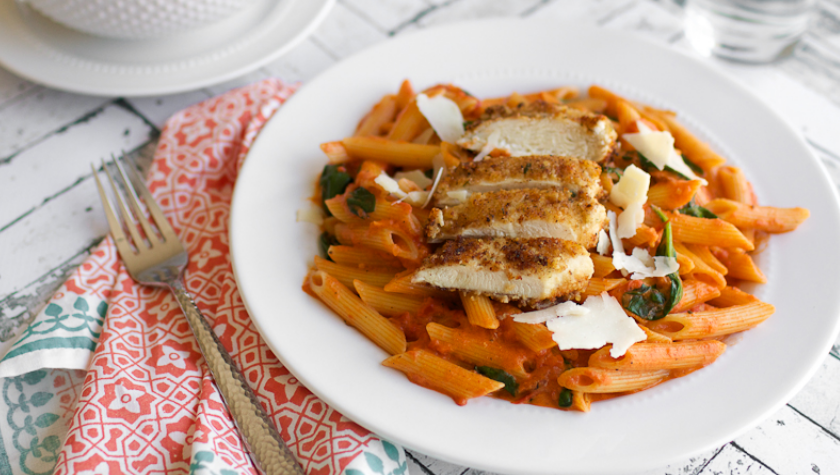 A recipe inspired by the classic!
Now you have the chance to make your own.
Ingredients
1 tablespoon olive oil
4 cloves garlic, minced
1 pinch crushed red pepper flakes
8 ounces button mushrooms, sliced
2 medium tomatoes (about 1/2 lb.) chopped
Salt and pepper, to taste
4 cups fresh spinach
1/2 cup marinara sauce
12 ounces whole wheat penne, cooked
1/3 cup plain Greek yogurt
1/4 cup grated parmesan cheese
Method
In a large skillet with a lid, heat olive oil over medium-low heat.
Add in garlic and red pepper flakes, cook for 2 minutes or until garlic begins to soften.
Add in mushrooms, tomatoes, salt and pepper.
Cook for 5 minutes, or until mushrooms begin to release their water.
Add in spinach and cover skillet
Let spinach wilt for 2 minutes.
Remove lid, and stir in the pasta sauce.
Remove the skillet from the heat, and let rest for 5 minutes.
Stir in the Greek yogurt, and then add the penne.
Stir until sauce is mixed well and all pasta and veggies are coated.
Heat until just warmed through.
Divide into pasta bowls and serve topped with parmesan cheese.

OOHHHH sounds exotic!
Luckily it's not too expensive too!
Just pure fllavour.
Ingredients
2 fish fillets (such as cod, hake, whiting, or 2 plaice or sole – anything you like – approximately 7 oz/200 g each)
2 tablespoons Coriander and Lime Tartare Sauce
2 tablespoons white or brown breadcrumbs
3 tablespoons grated Cheddar cheese
1 dessertspoon chopped fresh coriander
A pinch of cayenne pepper
Grated zest of ½ lime
½ oz (10 g) butter
Salt and freshly milled black pepper
Method
Begin by wiping the fish fillets with kitchen paper to get them as dry as possible, then place them in the foil-lined grill pan.
Season with salt and pepper, then spread the Coriander and Lime Tartare Sauce all over the surface of the fish.
Now, in a bowl, mix the breadcrumbs, cheese, coriander, cayenne and lime zest together, then sprinkle this over the fish as evenly as possible.
Dot with a little butter.
Place the grill pan as far from the heat as possible and grill the fish for 10-15 minutes, depending on its thickness – it should be just cooked through  and the top should be crispy and golden.Serve with tiny new potatoes, tossed in chives and lemon juice, and a plain lettuce salad.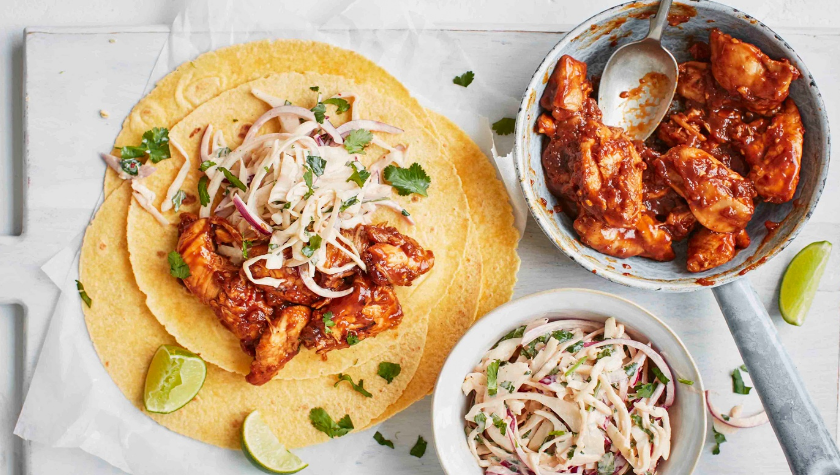 Now this is something different – a complete culture mix!
I can't wait to try one myself.
And to think you can buy all of this from Tesco!
It must be easy'
Ingredients
3 tbsp dark soy sauce
3 tbsp rice vinegar
3 tbsp soft brown sugar
2-3 tbsp hot pepper sauce, depending on how spicy you like it
2 tbsp cornflour
25g (1oz) ginger, grated
3 garlic cloves, chopped
2 x 430g packs chicken thigh fillets, cut into 1cm (1/2in) strips
8-12 corn tortillas
2 tsp sesame oil
1 lime, cut into 4 wedges, to serve
For the coleslaw
1 tbsp kimchi paste
3 tbsp mayonnaise
1/2 small white cabbage, finely sliced
1 red onion, finely sliced
4 tbsp roughly chopped coriander
Method
Preheat the oven to gas 6, 200°C, fan 180°C.
In a large bowl, combine the soy sauce, rice vinegar, sugar, hot pepper sauce and cornflour.
Mix until smooth.
Stir in the ginger, garlic and chicken.
Set aside while you prepare the coleslaw.
In a large bowl, mix the kimchi and mayonnaise together
Add the remaining ingredients and stir until thoroughly combined.
Season and set aside.
Wrap the tortillas in tin foil and heat in the oven for 5 minutes.
Heat the sesame oil in a large wok over a medium to high heat.
Add the chicken and cook for 8-10 minutes.
Stir as you cook, gradually adding about 200ml (1/2pt) water to prevent the sauce from getting too thick – it should be glossy and smooth.
Bring everything to the table and let people build up their own tortillas with a layer of chicken, the kimchi mayonnaise coleslaw and a squeeze of lime.