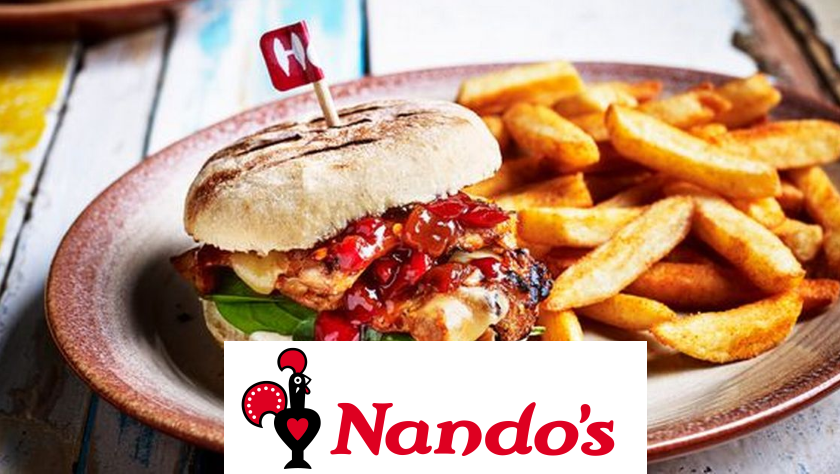 20% off click & collect orders at Nandos for all NHS Staff who hold a vaild ID card.
Simply verify your NHS email by filling out the form via the Nando's website.
Nandos Guide to NHS Discount:
We all love a 'cheeky' Nandos from time to time! So here at NHS Discount Offers we thought we'd let you know some of the BEST Nandos deals.
Nandos have so much food to chose from, you'll be surprised to know that they sell much more than just chicken. They try to cater to everyone, so no matter who you grab a Nandos with you'll all be able to enjoy. You can choose to go for a classic chicken option or even a vegetarian option perhaps.
Nandos even recognise that everyone's spice tolerance is different. So when you make your order at one of their restaurants, you'll be able to pick exactly how spicy you want your dish. There are even flavour options instead of spice options for those of us who hate spicy food. If you love spice they you could even go for the very hot option, be careful though because it does pack a punch.
How to Redeem Your NHS Discount:
If you're looking to redeem your NHS discount then you'll need to make sure to comply with these rules:
NHS Staff can pick up a very handy 20% discount on your Nandos Meal
Discount applies to the card holders meal only
The maximum refund is £4.00
Ongoing offer – just show a valid ID
Frequently Asked Questions:
Do Nandos do NHS discount?
Yes Nandos are currently offering NHS staff a 20% discount. Simply show your official NHS ID when ordering your meal and you can get a 20% discount on your order!
Note: the maximum refund for your order is only £4.00.
Do Nando's do student discount?
No, unfortunately they are not currently offering student discount. You can however sign up to their rewards card scheme. This is a sure way to get some great discounts with Nandos! You could even get your meal for free if you save up enough points! What could be better than free food.
What kind of food do Nandos do?
Nanos specialise in chicken but they also make sure to give their customers some variety. With a classic Nandos menu to choose from, including Peri Peri chicken, wings, the 'Beefy Gatecrasher' and a range of salads and dressings there's plenty to get stuck into! They even have a large range of vegetarian dishes too, so you'll never go hungry here. There truly is something for everyone!
Is Nandos South African?
Yes, Nandos was started up in 1987 in Johannesburg, South Africa. They were a fairly small business when they started, but theyve now grown and become a staple in many countries around the world.
Do you get a free Nandos on your birthday?
Yes, you can enjoy a free Nandos every year on your birthday. You'll need to have an account with them but once you've got an account then theyll let you redeem your free Nandos with them every year. So celebrate your birthday with some of the best chicken around!

20% Discount at Nandos for all NHS Staff who hold a vaild ID card - applies to the card holders order only. Maximum Refund £4.00
Expires - Ongoing Offer