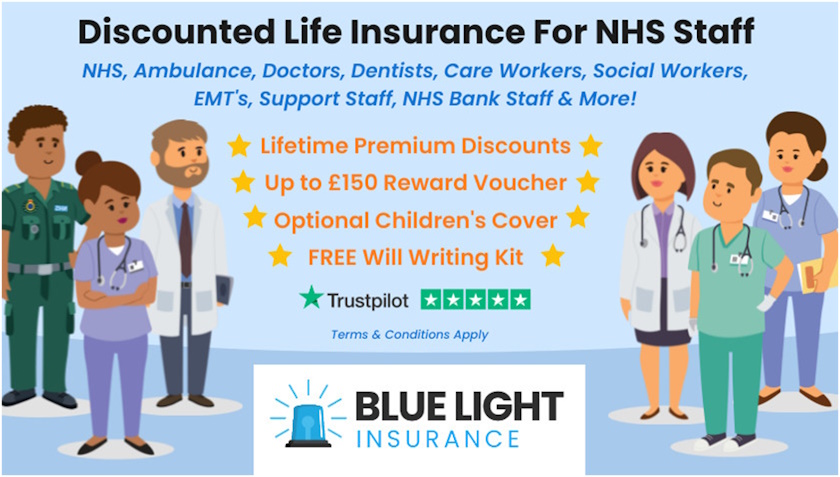 Blue Light Insurance – The Emergency Services Insurance Experts.
Here at Blue Light Insurance, we specialise in helping members of the health service (including NHS, Ambulance Staff, Care Workers, Dentists and more!) amazing deals and rewards when it comes to arranging their insurance.
Over the years we've helped thousands of members of the NHS, Health Sector, Emergency Services and Civil Service save money on their insurance.
We've been consistently rated as "excellent" by our customers and have amassed hundreds of 5-star reviews on Trustpilot for our work.
The products we specialise in are Life Insurance, Critical Illness Cover, Income Protection Insurance, Mortgage Protection and Private Medical Insurance.
We work a huge number of insurers to put us in the best position to find you the right insurance policy for your unique circumstances.
Through NHS Discount Offers, you and your family can compare Life Insurance, Critical Illness Insurance and Income Protection quotes and get Lifetime premium discounts, a Reward Voucher up to £150 (that can be spent at hundreds of different retailers), a FREE will writing kit and optional children's cover if you choose to take out Critical Illness Insurance.
We don't charge any fees for our services, and all quotes are 100% no obligation. So don't delay – get in touch with the team today and see how much we can save you!
Terms and conditions:
How our voucher reward works: When you take out cover through Blue Light Insurance Solutions you are eligible for the voucher reward offer. The amount of your voucher is calculated by the size of your first monthly insurance policy premium, rounded up to the nearest £5. For example, if your policy premium was £46.50 per month, you would get a voucher reward worth £50.00. The voucher reward is payable only when your policy goes active, and is paid 3 calendar months after your policy start date. Maximum voucher reward per postcode is £150.00. Where it is not possible to provide the voucher, the reward will be issued as a cash back sum paid by bank transfer. Offer does not apply to Private Medical Insurance or Hive Guaranteed Acceptance Insurance.
How our Lifetime Premium Discounts work: We apply a 15% "commission sacrifice" to all Life Insurance, Critical Illness Cover and Income Protection quotes, thereby reducing the standard commission levels we receive from the insurers, which leads to a reduction in your monthly premium. The discount will apply for the lifetime of your policy. Please note a 15% commission sacrifice will not result in a 15% reduction in insurance premium as the commission we receive only makes up a proportion of your monthly premium. The actual reduction in premium will depend on several factors including, but not limited to, the size of premium, and the commission levels offered to us by the chosen insurer. Offer does not apply to Private Medical Insurance or Hive Guaranteed Acceptance Insurance.
How our free will kits work: In the event you purchase a policy through Blue Light Insurance Solutions you will be eligible for a free will writing kit. Upon request we will send a will writing kit to you in the post no later than 14 working days following such request. Only one will kit per postcode. Will writing is not regulated by the Financial Conduct Authority.
How Optional Children's Cover works: If you choose a policy which includes Critical Illness Insurance then some of our insurers will include basic children's critical illness cover as standard, with no extra charge. Please be aware that if you choose Enhanced or Upgraded children's cover there will usually be an additional charge for this. Please also be aware that we may recommend an insurer for you who does charge for children's cover, even when there are insurers who do not charge extra, but this will only be where that recommendation is most suitable for you due to other factors including overall quality of cover, most favourable underwriting stance, or offering the best overall price. Please speak to your adviser and refer to the policy terms and conditions for more information. Please note for Life Insurance only, and for Income Protection policies, it is in most cases not possible to add children's cover. For Private Medical Insurance policies children's cover is usually not included as standard, and children must be added to the plan at extra cost.