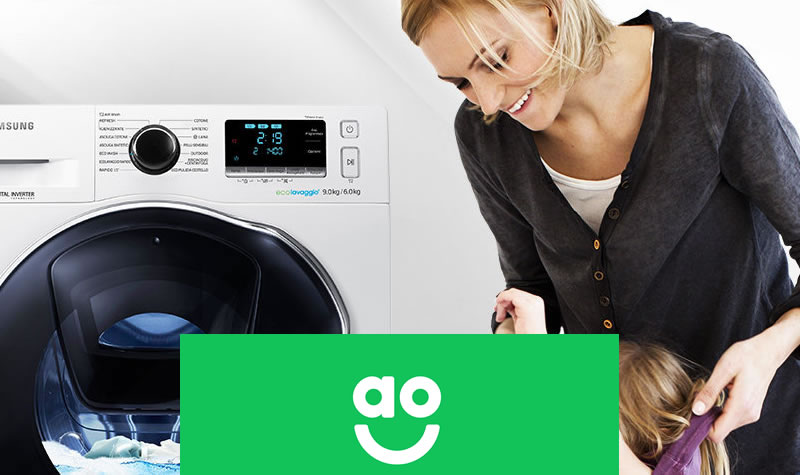 How to get AO NHS Discount

Get 10% off Large Kitchen Appliances with our code
NHS staff can get 10% off Large Kitchen Appliances. Get your code here.

£10 off Small Appliances over £199
NHS staff can get £10 off Small Appliances over £199 . Get your code here.

£20 off TVs and Audio over £399
NHS staff can get £20 off TVs and Audio over £399 . Get your code here.
AO.com are one of the most popular shopping portals in 2021 for electricals, new technology gadgets, homeware and much much more so we are delighted to add them to nhsdiscountoffers.co.uk.
Offering a variety of discounts and money back offers across a spectrum of products, including washing machines, cookers, microwaves and many more home appliances there's a great chance of securing a good deal.
In today's digital era, more and more of us go online to make all sorts of purchases. A huge number of us rely on digital technology and online retailers to purchase big-ticket items such as household appliances and electricals.
This is because buying these items online provides more choice, better value, and the added benefit of home delivery. One of the online electrical retailers you can buy from is AO, which has gained a solid reputation amongst online shoppers.
There are many great benefits you can look forward to when you shop at AO. With so many people now buying online, this retailer has become one of the UK's go-to virtual retailers for electricals. You can purchase all sorts of gadgets and appliances from AO, and you get to enjoy the convenience of speedy home delivery.
Does AO offer a discount to NHS staff?
Yes, AO are offering NHS staff a 5% Discount code which can be obtained using the link above.
There are many reasons why so many people across Britain love shopping at AO. This is a great choice for those that are looking to purchase electrical gadgets and appliances for the home. Some of the reasons behind the popularity of this retailer include:
The wide choice of brands and electricals available
Great value prices on products
Speedy home delivery
Installation options for appliances
Availability of 0 percent finance
Price match promise
Excellent consumer reviews
Recycling scheme in place for old appliances
Excellent levels of service
Free 100-day returns
Very user-friendly website
These are just some of the many benefits that have helped to make AO an online leader when it comes to electrical products in the UK. Plus when you use your AO NHS Discount you can really pick up a bargain with exceellent customer service.
What can I buy wit my NHS Discount at AO?
The choice of electrical products and brands available from AO is impressive. This means that you can find what you are looking for with ease and convenience, enabling you to get the perfect appliances and gadgets for your home. Some of the products you can choose from include:
TV and entertainment
Computers and related products
Phones and smart devices
Washing machines, dryers, and dishwashers
Fridges and freezers
Cooking appliances
Floorcare products
Whatever you are looking to purchase, you will also be able to look forward to next day delivery, so there is no waiting around wondering when your purchases will arrive.
Who are AO.com?
With a UK head office that is located in Bolton, AO has been in operation since 2000. With our move into the digital era and the ever-increasing popularity of online shopping, the company has gone from strength to strength over recent years. Many women now head online to choose from the excellent choice of products available at AO.
One of the great things about AO is that you can find the electricals you want at prices that are easily affordable.
The availability of 0 percent finance makes affordability even greater. In addition, you can look forward to the ease and convenience of being able to browse and shop from the comfort and privacy of your own home.
If you ever encounter an issue with your order or products, AO are great at sorting out probelms with great customer service. All you need to do is contact AO via their AO customer suppport and there is always someone happy to help resolve your issue.