Set up in the Spring of 2015, we are a team of avid voucher and discount addicts who are more than  happy to scour the internet for all the latest discount offers and voucher codes for NHS staff, their friends and family to use.
Who are Our Authors?
With all the latest cut backs and austerity measures put in place, we thought it a great time to collate all the offers that you can use into one place.
We feature only the most reputable discount codes and vouchers from only the most respected retailers on the UK high street, and rest assured we will do our best to maintain our high standards and give you only the latest and up to date money off specials for you to use.
Our authors are Steve Jones & Spencer James.
Author contact details
Spencer James
Email: spencer@nhsdiscountoffers.co.uk
Tel: 07366849973
Steven Jones
Email: steve@nhsdiscountoffers.co.uk
Tel: 01792 201970
Where do we get the Discount and Promotions?
Here at our HQ we try and provide the best discounts and deals for NHS staff and family. We negotiate deals with companies to provide you with online (sometimes in-store) exclusive discounts.
As most of our deals are online this means you can shop and save from the comfort of your home or workplace. We also make sure we provide the most up to date deals from companies, even if they are not NHS exclusive.
We have created an awesome system which allows our website to instantly provide you with a Discount code, voucher or promotion as soon as the company make it available.
Problems or issues with Vouchers?
These deals or promotions often change and can be pulled at any time by the retailer. Therefore we cannot guarantee that every voucher or code you see will work.
If this does occur you can contact us in the first instance, but it is usually best to go straight to the company that initially provided the voucher. This is likely to be the best option to resolve any issues.
Who can use our Discount and deals?
Our site is dedicated to saving money for NHS staff and their families. Some of the offers will require you to produce NHS ID at the relevant store, however we want the whole of your family to save. This means even if you don't directly work in the NHS you can still use our offers which don't require staff ID.
Contact Us
By Email – support@nhsdiscountoffers.co.uk
By Post – 422A Gower Road, Killay, Swansea SA2 7AJ.
Come and join us!
So welcome to our website, take a look around and pick up an offer or two. We want you to save money! And feel free to get in touch with us through our contact page if you have a question to ask, we will do our best to return your email within 24hrs.
Give us feedback
If you would like to ask us a question feel free to send us an email using our contact form here.
Thank you!
The NHS Discount Offers Team.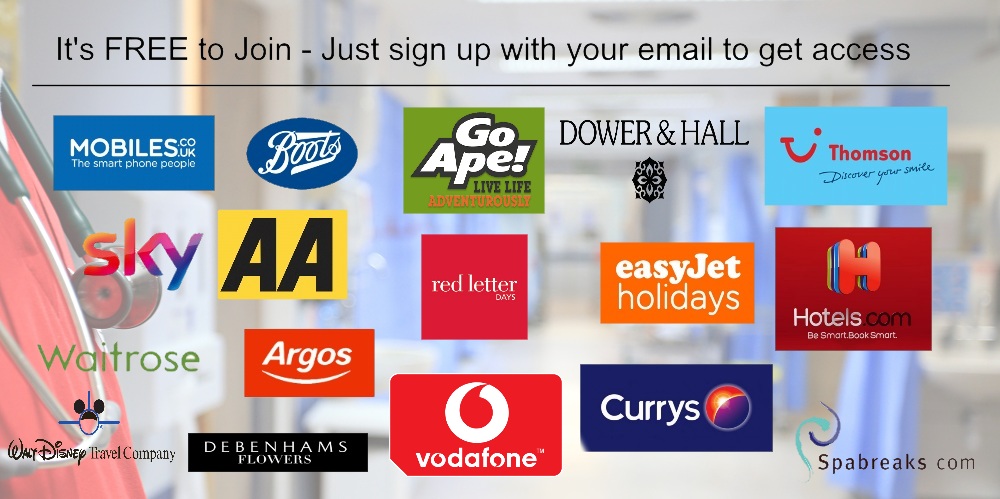 NHS DISCOUNT OFFERS is not affiliated to, or endorsed by the department of health or NHS.