If you work for the NHS in any capacity, you are entitled to a range of benefits. In addition to the usual benefits, including the contributory pension scheme, you can look forward to a wide range of discounts on a variety of purchases.
There are many retailers, restaurant chains, travel companies, and more that participate in this scheme, and this enables NHS employees to enjoy a generous discount on a huge range of goods and services.
Walk In NHS Discounts Available to Staff
You will find a wide range of popular discounts available to NHS staff, and this means that employees can look forward to great value for money on many purchases.
Some of the popular discounts available as part of the discount scheme include:

Nandos – 20% off
If you love chicken dishes with a Portuguese twist, Nando's is a great place to dine.
You can look forward to a varied and exciting menu that offers something for everyone. While the specialty at this popular South African chain is chicken, there are many other dishes to choose from including a range of vegetarian options.
As an employee of the NHS, you can look forward to a generous discount of 20% off your bill when you dine at Nandos.
Getting your discount couldn't be easier, as all you have to do is show your NHS badge/ID at the checkout and your discount will be applied automatically to your bill. There are some terms however:
NHS discount is applied to the card holders order only.
Applies to orders up to a value of £20.
the money off is capped to a maximum of £4.
Frankie & Benny's – 20% off
Over recent years, the fabulous retro American Italian restaurant chain, Frankie & Benny's, has enjoyed enormous success in the UK.
Many people flock here to enjoy the great food, vibrant atmosphere, rock 'n' roll vibe, and delicious cocktails. Whether you are dining out with your partner or with a group of friends, this is a great place to visit.
If you are an employee of the NHS, there is even better news. You can enjoy a very generous 20 percent off simply by showing your NHS ID card – however you must purchase 2 or more main courses from the main menu.  This discount applies to your whole bill, which means you can enjoy delicious food and drink and excellent value for money.
Valid when 2 main courses are purchased from the Main Menu
Valid every day of the week
Discount applies to food only, not drinks unfortunately!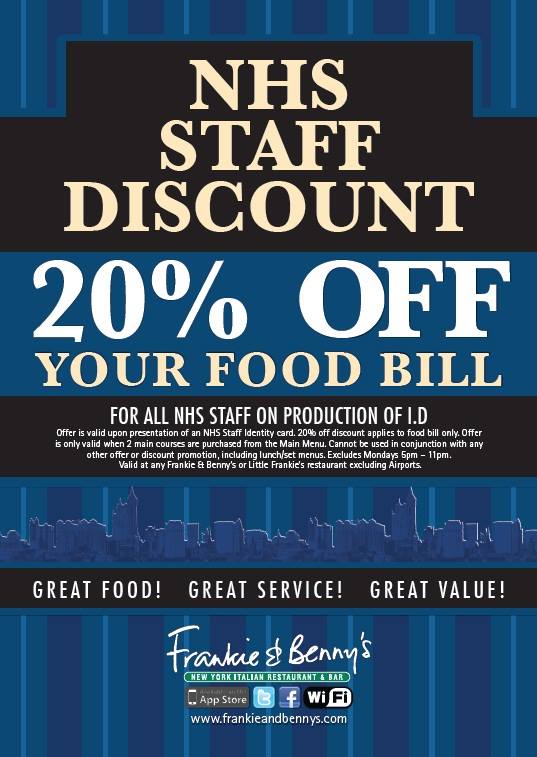 Iceland – 10% off (at Christmas)
This is more of a winter seasonal offer but its certainly a great way to make savings when doing the Christmas food shop!
When Christmas rolls around, we tend to pack out fridges and freezers out with chilled and frozen goods. This can prove to be expensive, particularly if you have a larger family or do a lot of entertaining. However, when you shop at the frozen food specialists, Iceland, you can get a huge variety of food options at really low prices, which makes it far more affordable to purchase your frozen and chilled food over the festive season.
Moreover, if you work for the NHS, you can enjoy an additional 10 percent discount on your shop over the Christmas period, which makes it even better value for money when you stock up on chilled and frozen goodies. All you need to do in order to get your discount is to show your NHS ID at the till, and the staff member will then apply your discount.
Iceland normally launches this offer in a specific time window in December so keep an eye out when the time comes!

Cosmo Restaurants – 10% off
Another well known restaurant chain, Cosmo, offers Emergency Services staff 10% off their final food bill, when accompanied by a maximum of 5 people. Cosmo are all about fresh food from around the world – the 'Authentic World Kitchen'
With plenty of dishes and flavours to get those taste buds working out, this looks like a great way to save some money if you are having a birthday party or celebration!
Simply show your ID when presented with your bill. Remember though, those drinks won't be included in the discount, its only the food.
Vodafone – 15% off
The first of our mobile phone operators to offer NHS staff a discount on their bills is Vodafone.
Vodafone have a wide range of sparkling new handsets for you – As an employee of the NHS staff can pick up a discount of 15% on Vodafone Pay Monthly plans so take a look at their website to find a suitable contract.
You can take advantage online here or if you are out and about simply take your ID badge to your local Vodafone store.
O2 – 25% off
There are many mobile network providers to choose from these days, and one of the leading ones is O2. Known for great service, quality products, and excellent coverage, O2 has become a hugely popular network provider used by huge numbers of people across the UK, including many NHS employees.
If you are considering an airtime plan with O2, you are in for a treat because you can get up to 25 percent off as an NHS employee with the o2 Open Scheme.
All you have to do is join the O2 Open Scheme when you make your phone or package purchase, and you can then get your discount applied. This one only applies to O2 Airtime Deals, but still, this means great value on your mobile plan with a trusted and respected UK mobile phone provider.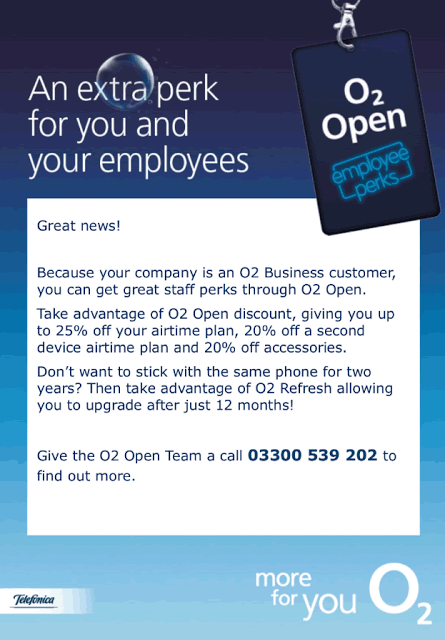 Best of the Rest to Use Online
GoApe – 15% off with code EMSD9
If you enjoy taking the kids for some fun and adventure at the weekends or during the holidays, Go Ape! is an excellent choice. This is a fabulous place where you can enjoy everything from Tree Top Adventures through to zip trekking, Segway experiences, and plenty of activities for the children.
It has become a very popular option for those that want to enjoy a great family day out in the fresh air.
You can get some great deals on entry for Go Ape! and if you are an NHS employee, you can look forward to even greater value for money.
NHS staff can get up to 15 percent off the cost of entry, and this can add up to a tidy sum if you are taking the whole family along. So, enjoy the chance to sample outdoor adventures at a really low price with your NHS discount.
The Works – 20% off with Code NHSDISC20
There are many people that enjoy making their purchases online, and there are lots of different retailers you can purchase from. One of the popular retailers you can purchase from is The Works, which sells a variety of goods including gifts, cards, stationery, arts,and crafts. You can enjoy great prices and the ease of being able to purchase online when you choose this retailer.
Better still, if you are an employee of the NHS, you can enjoy a superb 20 percent discount on the value of your order when you shop online when you use the above code.
Not only that, but the discount also applies to your family members, so they can also get great deals and excellent value.
Love Honey – £5 off and free delivery with code NHS545DIS
If you are looking for something of the more 'adult' variety then Love Honey will surely satisfy all your needs! They offer plenty of adult products  – we won't mention them here but if you use your imagination you will surely find them on the site!
This is a nice little code offering £5 off all orders over £45, plus you get free delivery also, which is an additional saving of £3.99.
Europcar Car Hire – 20% off
If you are unfortunate to break down, have sold your car or simply need to hire a car to get you around, Europcar offer NHS staff 20% off the cost. The discount applies to UK car hire – they also offer 24 hour roadside assistance & 24/7 service in most major airports.
All you need to do is to present a valid NHS ID card at the time of rental.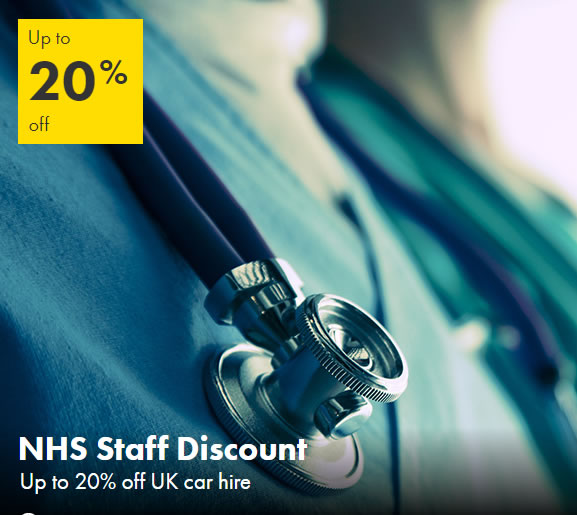 Many Wonderful Discounts Available
The above is a sample of some of the top discounts you can get as a member of the NHS.
As long as you have your ID card, you will find that you are eligible for discounts and special deals in all sorts of places. This can make it cheaper to eat out, shop online, go on holiday, enjoy days out, and make the most of modern technology.
Businesses realize what a great job the NHS does, and the discounts they offer are in recognition of the commitment of NHS employees as well as employees of emergency services such as the police. So, make the most your NHS discount and browse the offers available to you.
About the Author – David is a freelance journalist specializing in discount offers, coupons and perks NHS staff can take advantage of.
Contact the Author – You can contact David on dj@nhsdiscountoffers.co.uk or use the contact page to send a message. or telephone the office on 01792 201970.