Mum of two Community paediatric nurse Vicky Riddle has been telling NHSDiscountoffers.co.uk how stores, shops and brands have really have made a difference to front line staff during this time of crisis.
The nurse, who works for Nottinghamshire NHS is appreciative of everything stores have done to help out front line staff during the pandemic, from offering discounts to health service staff as well as opening shops at specific times for NHS workers to shop – helping Vicky save money along the way as she looks after her family as well as working on the front line.
Vicky tells us:
"So this has been a very surreal time!!
As a Children's Community Nurse and a married mum of two boys it has been let's say -different! I am still at work three days a week in the community in Nottinghamshire and I am lucky I can also do some work from home.
The various NHS discounts have been lovely and kind and are very much appreciated."
Vicky's job in the community sees her putting miles in daily, so peace of mind on the road came as a welcome as Halfords offered free car checks for NHS staff.
"The first discount I used was Halfords car check which was free! Its normally advertised at £15.
As a Community paediatric nurse I travel a lot of miles a week predominantly on the A1 and I have broken down before so I do get nervous. I was really pleased to get the free for NHS staff car health check which provided me with reassurance on the road! "
Vicky also appreciated the free hot drinks provided by Mcdonalds and other fast food restuarants.
"…At the beginning of lockdown my colleagues were over joyed to receive free hot drinks from Mcdonalds ( before they closed). We all had 3 flat white coffees which saved us £5.37! Moto / motor way services are also offering free hot drinks to NHS staff"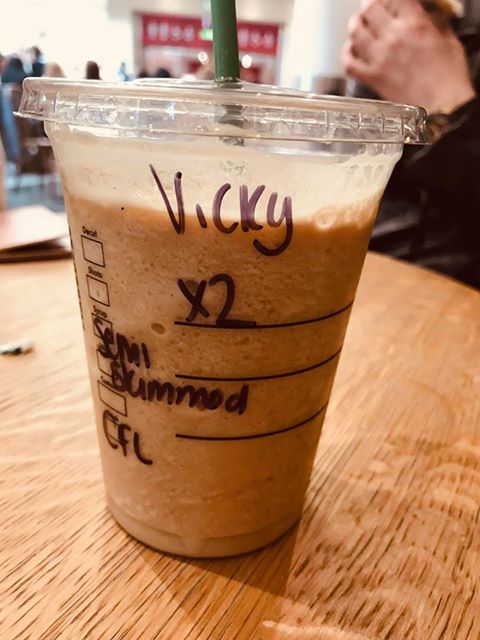 As well as her work, Vicky tells us that mobile networks such as EE have also helped out with free data bundles for NHS staff.
"…As my children are doing their school work at home I thank the lord for their iPads!
My 4 year old uses his iPad for his homework which includes maths and nursery rhymes. My eldest son who's 10 has been using his for homework especially accessing the school website. Due to the hot weather we've done a lot of things outside but their iPads run on WiFi which isn't that great in the garden.
So I was really happy when EE offered free unlimited data until October 2020 for NHS staff. Adding unlimited data for a month would normally cost me an extra £12.99 a month.
My boys' iPads can run off my data so we are all connected."
Food shopping is obviously an expense but food brands such as Morrisons and Iceland's discount for NHS staff has seen Vicky save as well as offering free delivery.
"As a family we've saved a bit of money with gym memberships , swimming lessons, football with it all  being frozen. Somehow though we are spending a fortune on food! I have shopped around to lessen this large weekly payment!
I initially visited Morrisons York Road Doncaster during the NHS opening hours of 0600-0700 weekdays which was amazing and a real help to me so thankyou Morrisons!
There were zero queues and I even got a Lindt chocolate whist in the queue for the till. 
Morrisons were offering 10 percent off was and still is fantastic as we do eat a lot! Our shop came to £100.97 so I save £10.97 with my 10% discount. Morrisons have also started a 'more for our NHS' scheme! Free to join and I got a three month free delivery pass!!!
I live closer to Iceland supermarket and when I heard their discount was a huge 20 percent for one week from the 1st June – this was my supermarket trip for this week! Their NHS hour is 1700-1800hrs. My shop came to £110 so I saved myself £22!! "
As with most people, Vicky enjoys her coffee fix at Starbucks before work:
"I am a huge Starbucks Frappuccino fan and I just have to mention the lovely staff at the drive through Starbucks on the A1 in Elkesley! I got my free tall coffee Frappuccino simply for working in the NHS which saved me £3.20."
During lockdown Vicky has also had to buy for Father's Day and birthdays .
"….I actually had my 40th in April during lockdown! My husband loves cheese and his birthday is before Father's Day and I managed to find NHS discount through The Cheshire Cheese company if you register with your NHS email!
I got a lucky dip cheese selection gift box which normally costs £25.50. I saved £5.10! Only thing is he got the parcel from the postman which had a huge cheese label on the front – so no surprise pressie there and it's in the fridge! Haha!"
Vicky also took advantage of food discounts at Marks & Spencer along the way.
"…I'm not sure if people have heard that M&S are doing amazing discounts on their food in service station supermarkets?! I couldn't believe when I heard it was 50% off ! So I had to visit to check it out. Initially I spent £30 but even so that's a huge saving of £15!!!!…"
Vicky also received in the post a free women's razors from Gillette!
"…All I had to do was register with my NHS email and they sent a Gillete Venus Razor worth £10 with a thank you NHS note!
These discounts really have made a difference and I really appreciate them as I'm sure other NHS workers do! Stay safe everyone…"
Your work is very much appreciated at this time Vicky!