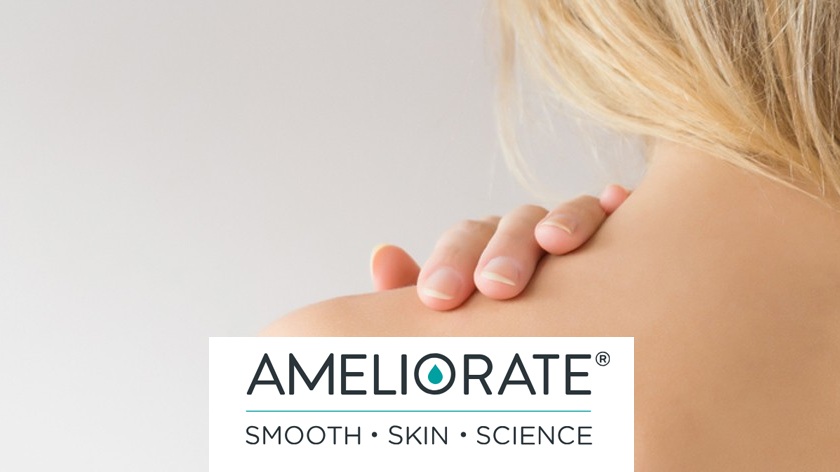 30% Discount at Ameliorate for NHS
Use the code THANKYOU at the checkout and receive 30% discount online.
Ameliorate NHS Discount
We have all the latest discounts and offers for Ameliorate for NHS staff to save money! They have provided us with 30% Discount for all NHS and Healthcare workers to enjoy! Just enter the copde at the checkout to save on this quaslity brand.
All Ameliorate deals for NHS are listed above and are also available for family and friends. So if you have someone you know that does suffer with Keratosis Pilaris then you could show them the latest deals.
Keep coming back to check all the offers as they are constantly changing and you might find a bargain deal that you cannot pass up!
How will Ameliorate help me?
If you suffer from keratosis pilaris, perhaps you know how hard it is to find adequate skincare products. The market is full of allegedly miraculous solutions, but most of them deliver nothing but false claims and hopes.
Ameliorate, on the other hand, is a brand dedicated to improving the skin condition and ultimately, the lives of those affected by the keratosis pilaris.
Launched in 2014, Ameliorate is the result of joined efforts between a keratosis pilaris sufferer and a leading UK skincare manufacturer. UK's first dermatological skincare brand, Ameliorate progressively resurfaces damaged skin until making it smooth again.
Besides smoothening the skin, the products also moisturise it, delaying the onset of the symptoms.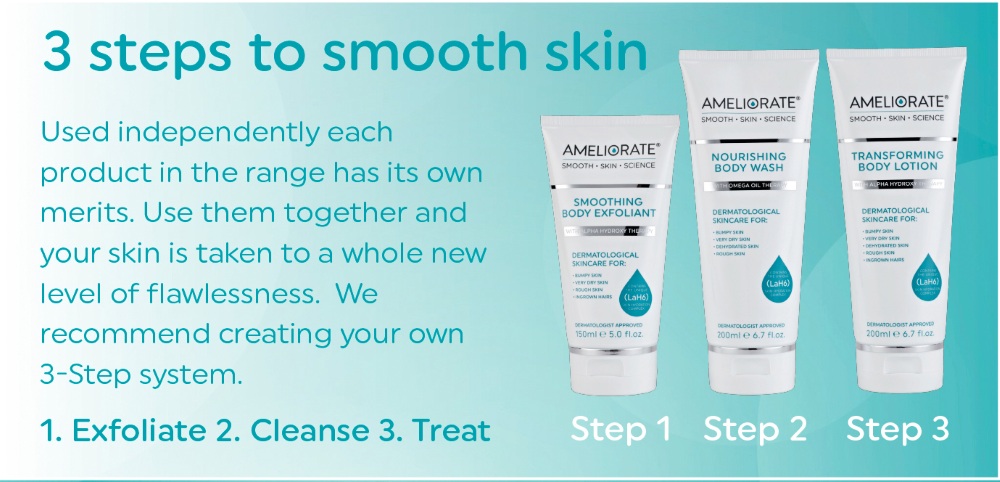 Three-Step Body Skincare System
The brand developed a three-step system designed to exfoliate, cleanse, and transform your skin.
While each product can be used separately, they give the best results when used together in the following sequence:
Exfoliate: The brand produced a smoothing body exfoliant available in two variants – a body mitt and a wash-off product. Both products moisturize for up to 8 hours, smoothening the skin and reducing the unsightly effects of keratosis pilaris.
Cleanse: The next step involves cleaning your body with a pH-balanced, soap-free nourishing body wash developed to enhance the natural lipid barrier of the skin. This product further moisturises the skin, reducing the "chicken skin" effect.
Transform: Lastly, apply the transforming body lotion; surprisingly lightweight, it contains AHA lactic acid, LaH6 hydration complex, and sweet almond oil. This emollient formulation delivers intense nourishment, smoothens bumps and improves the elasticity and condition of the skin.
Travel Size
Keratosis pilaris doesn't just go away when you travel. Luckily, Ameliorate also sells its products in travel-size packaging.
You can buy your favourite product only or choose a travel kit that contains the main three products.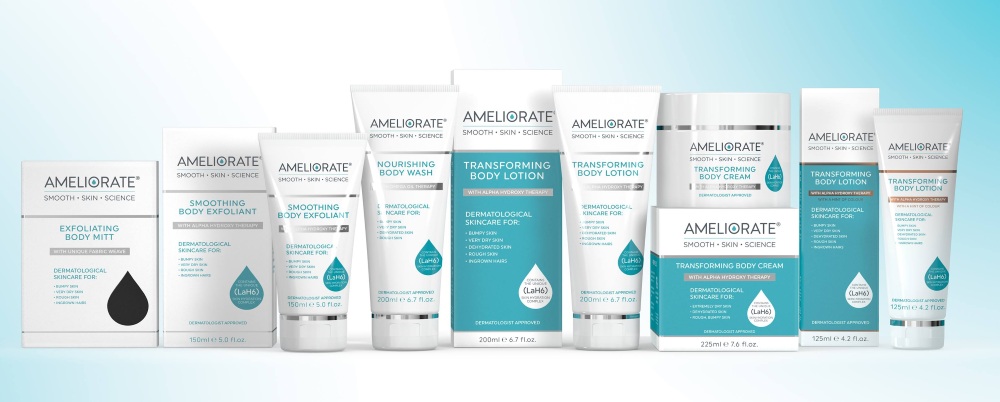 Targeted Treatments
While keratosis pilaris can affect any part of the body, Ameliorate also proposes a series of targeted treatments for hands, feet, and lips.
All products come in travel-friendly sizes, so you can benefit from the soothing treatment wherever you go.
Kits And Bundles
Tested on people affected by keratosis pilaris, Ameliorate brand proposes highly effective skincare products at competitive prices. Nevertheless, you can save even more if you opt for one of their skincare kits or bundles.
All bundles come with a complimentary free gift, and all orders also benefit from free standard delivery within the UK.
FAQ Ameliorate
If you are unsure of what products you should be using or how they test their products, then you should check out the FAQ section on their website. Here you will find all the information you need to make the right decision for you.