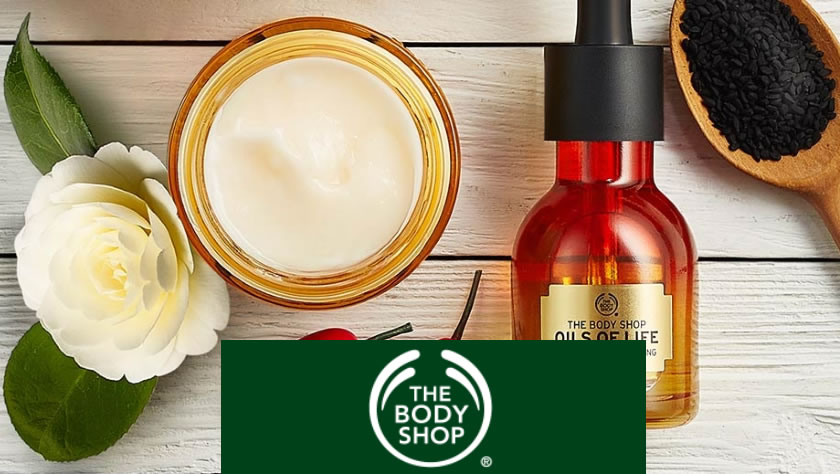 The Body Shop NHS Discount
The Body Shop is a global beauty brand which is intent on making people feel great! NHS Discount Offers have teamed up with The Body Shop to bring some great discount on these wonderful beauty products. You'll find our best deals just above, with these deals constantly changing, so keep an eye out for the best deal for you by checking back to our page regularly.
To redeem an offer you'll need to first go to your basket. You can get money off your basket when you spend online today! With offers like these why would you want a discount from anywhere else?
The Body Shop makes a difference, and is a great way to shop more ethically on your beauty products. It is more than a skincare and beauty store. The Body Shop is constantly attracting more and more eco-conscious individuals. So if you're interested in natural skincare, then you'll love The Body Shop.
If you're looking for a cruelty-free and vegan-friendly beauty brand, then The Body Shop could become one of your new favourites. They have ethical values at the core of their brand with high-quality ingredients to back them up. They fight against anti-exploitation and discrimination which makes them such an awesome brand to shop with.
It might not have as many makeup choices as other brands, but it has a wealth of skincare products. But for those of you looking for a more sustainable beauty routine, then we're guessing you'll want quality over quantity anyway! Most products are even plant-based with some of them being completely vegan friendly.
With so many positive traits and few negatives, The Body Shop should be top your list for ethical beauty brands!
Frequently Asked Questions:
Does The Body Shop do NHS discount?
Yes, The Body Shop are currently offering NHS staff 20% discount when they shop in store. To redeem this discount you'll need to have your valid NHS ID with you to prove you're working for the NHS. However once this is done you'll be able to use the 20% discount throughout the store! What could be better than pampering yourself with some of The Body Shops best products.
Does The Body Shop have student discount?
If you're a student, you can enjoy 15% off your orders, and discounts on the brand's products through UNiDAYS. To redeem this offer you'll need to have a valid UNiDAYS account which you'll be able to get your code from. If you already have a valid UNiDAYS account then you'll be able to get your unique code here to start saving!
Do new customers get a discount at The Body Shop?
New customers can get 20% off their first order when using the discount code present on The Body Shop homepage. As a new customer you'll also be able to get free standard delivery on your orders which are £25 or more.
Does The Body Shop offer free delivery?
Another way to save at The Body Shop is on delivery. They will sometimes offer you free delivery if you spend over a certain amount or if you get it through a special promotion. However, you can always ensure free delivery if you collect your order in store. This is also an sustainable way to order online as your parcel won't be adding up any extra carbon emissions. We definitely recommend collecting your order in store if you have a The Body Shop store near to you.
What is The Body Shop 'Love Your Body' Club?
You can join the Love Your Body Club, which is a loyalty programme that lets you earn points for your purchases. You can then redeem rewards every time you shop at The Body Shop. This is definitely a good way to save if you're a frequent customer at The Body Shop, as your points will start to build up over time.
Why Shop at The Body Shop?
The Body Shop started as a small brand selling ethically-sourced and naturally-inspired beauty products in their shop in Brighton, England. they still have the same passion today and highest quality beauty products as when they started.
The Body Shop is synonymous with natural skincare and is a favourite among environmentally savvy people who want to end animal testing cruelty and modern slavery. Indeed, the brand is renowned for its two strong polices: Forever Against Animal Testing and Enrich Not Exploit. They take an ethical approach to skincare and beauty products manufacturing, natural formulations, and a wide range of products covering everything from soaps to makeup and fragrances.
Who Is The Body Shop For?
The Body Shop addresses everyone but is an excellent choice for those looking for vegetarian and vegan products. Although the formulas may contain some chemicals, the brand does its best to keep its products as natural as possible. Most products are suitable for vegans, but lip balms and body butter usually contain beeswax.
Proposing various lines for men and women, The Body Shop addresses all genders and individuals from all walks of life. They make sure to keep to their core values and never test on animals, so you'll be able to sleep soundly knowing your products aren't harming anyone.