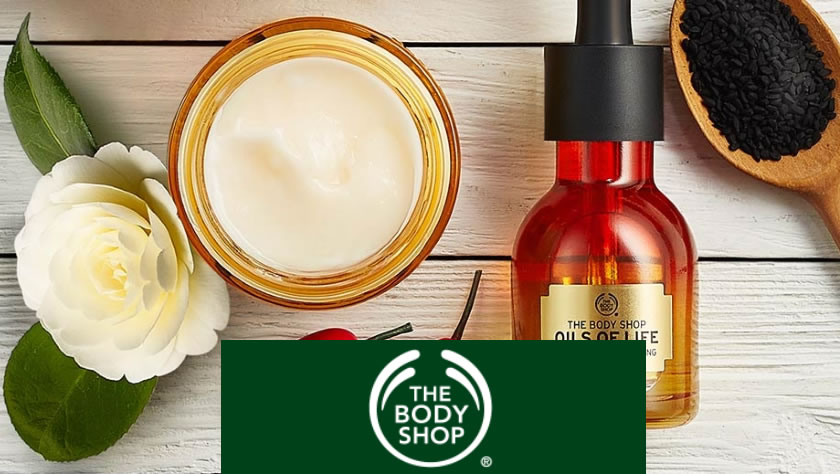 BODY SHOP NHS DISCOUNT
The Body Shop is a global beauty brand which is intent on making people feel great! NHS Discount Offers have teamed up with The Body Shop to bring some great discount on these wonderful beauty products.
You can get money Off your basket when you spend online today! An amazing offer not to be missed with these kind of offers you will find what you're looking for!
The Body Shop Review
In a society based on profits and consume, The Body Shop makes a difference. It is more than a skincare and beauty store. The Body Shop is a cult that attracts more and more eco-savvy individuals interested in natural skincare. Why shop at them? Read this review to find out all you need to know.
Why Shop at The Body Shop?
Today considered an international brand, The Body Shop started as a small brand selling ethically-sourced and naturally-inspired beauty products in their shop in Brighton, England.
Passion and highest quality beauty products helped the brand grew into the giant that it is today. Now, The Body Shop is synonymous with natural skincare and is a favourite among environmentally-savvy people who want to end animal testing cruelty and modern slavery.
Indeed, the brand is renowned for its two strong polices: Forever Against Animal Testing and Enrich Not Exploit.
An ethical approach to skincare and beauty products manufacturing, natural formulations, and a wide range of products covering everything from soaps to makeup and fragrances, The Body Shop is undoubtedly an excellent choice.
Who Is The Body Shop For?
The Body Shop addresses everyone but is an excellent choice for those looking for vegetarian and vegan products.
Although the formulas may contain some chemicals, the brand does its best to keep its products as natural as possible. Most products are suitable for vegans, but lip balms and body butter usually contain beeswax.
Proposing various lines for men and women, The Body Shop addresses all genders and individuals from all walks of life.
The Body Shop Perks
Like most online shops, The Body Shop comes with a handful of perks that can help you save a quid.
If you're a student, you can enjoy 20% off your orders, and discounts on the brand's 100% vegan products as well, through UNiDAYS.
New customers also get 20% off their first order when using the discount code present on the homepage, and you get free standard delivery for orders of £25 or above.
Another way to save on delivery is to collect your order in store for free if you happen to have a Body Shop store near you.
You can also join the Love Your Body Club, a loyalty programme that lets you earn points for your purchases and redeem rewards each time you shop.
Our Verdict
If you're looking for a cruelty-free, vegetarian-friendly cosmetic brand, The Body Shop can definitely be it. Ethical fundamental values, high-quality ingredients, and anti-exploitation and discrimination views are just some of the awesome things that define this brand.
It might not have as many makeup choices as other brands, but it has a wealth of skincare products. Most are plant-based, and some are completely vegan.
While it lacks Armed Forces and NHS discounts, The Body Shop is relatively affordable. Furthermore, students and first-time buyers can benefit from 20% off their orders. With so many positive traits and few to no negatives, The Body Shop should top your list of favourite cosmetics brands.