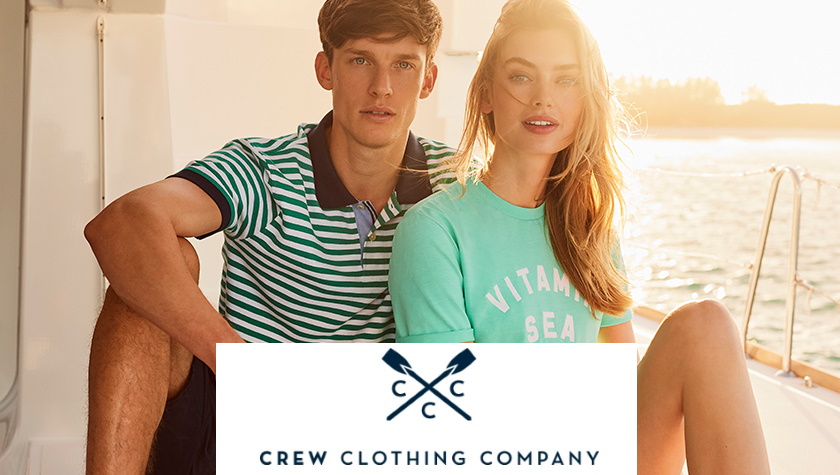 30% Off Crew Clothing
Use the code NHSDISCOUNT30 at the checkout.
Crew Clothing NHS Discount
Established over 25 years ago, the Crew Clothing Company is one of the most popular British casual wear brands. Operating in various cities and boasting a visually attractive online store, the brand appeals to consumers from all walks of life.
The clothing lines they propose have classic lines and an everlasting freshness that combines equally well with traditional and contemporary clothes.
Seasonal collections make it easy to mix and match styles and colours according to your liking, while a dedicated sales section makes it easy to find deals and discounts. Still wondering why shop from them? Read on to find out more.
Crew Clothing Company Product Range
The Crew Clothing Company proposes all sorts of casual and sportswear for men, women, and kids. Collections comprise tops and jackets, trousers and skirts, dresses, overcoats, as well as shoes and accessories. Besides everyday outfits, you can also shop loungewear, prices going as low as £10.
Most of their styles are either slim fit or regular; perhaps this is why finding larger sizes could be tricky.
Delusions apart, if you aren't particularly chubby, you will most likely find loads of garments for most occasions.
Crew Clothing Company Perks
Perks go hand in hand with online shopping, and the Crew Clothing Company is no exception. The easiest way to get your hands on awesome discounts is by simply visiting the deals of the website.
At the moment of this writing, for instance, you can get two shirts for £80 or 3 for 2 on all polo shirts.
Exclusive online deal – and even exclusive online collections – are also part of the picture. Furthermore, you can enjoy shopping for less in the Holiday Shop.
Newsletter subscribers also get a wealth of new styles and offers directly to their inbox, as well as free delivery and returns. Furthermore, students, Armed Forces, and NHS workers can also enjoy plenty of dedicated deals, both in-store and online.
Another way to get some discounts is by referring the website to your friends. The referral programme will give both you and your friend 20% off on your next/first order.
Our Verdict
The Crew Clothing Company is one of the best casual wear brands around. Its greatest strength is the timeless design of the garments – an iconic British style that will make most heads turn with admiration.
Affordable prices plus loads of deals make this store even more attractive. If you're a student or work for the NHS or the Armed Forces, you can even get other exclusive discounts. All in all, the Crew Clothing Company provides affordable quality and is a brand we recommend wholeheartedly.