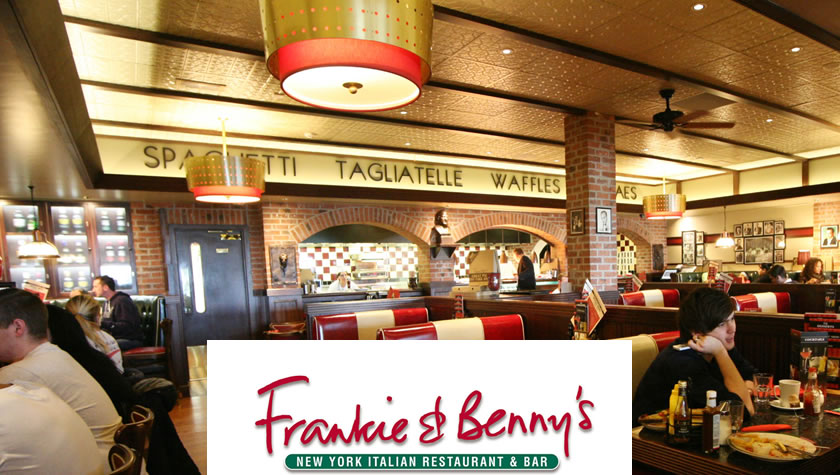 Frankie & Benny's NHS Discount Guide
At their restaurants you can expect great service, delicious food and a comfortable setting to enjoy yourself in.
Frankie & Benny's is a well-known Italian-American restaurant chain located across the UK. First opening in 1995 in Leicester, today the restaurant chain has over 190 locations across the UK.
So whether you're tired of cooking for the family or just fancy a treat, Frankie & Benny's has all your most favourite dishes and a little slice of home to enjoy.
To get the best deals at Frankie & Benny's simply visit our site and we'll show you the very latest promotions and discounts. So you can take a night off cooking and enjoy yourself for less!
Frequently Asked Questions:
Does Frankie & Benny's do NHS discount?
Yes, you can save 20% off of main meals at Frankie & Benny's if you're an NHS member. To redeem this discount all you'll need is a valid NHS ID with you and a big appetite.
Can I use my Blue Light Card in Frankie & Benny's?
Yes, you can actually use a Blue Light Card at Frankie & Benny's. You'll be able to use this card to get discount on Frankie & Benny's when you get it delivered to your house. This is a great way to save on your next takeaway!
If you don't currently have a Blue Light Card then we'd recommend you get one! This is one of the best ways to save on brands you love. You will need to meet certain criteria to get one of these though! But if you meet this criteria you'll be able to register to get a Blue Light Account, which you can sign up to here.