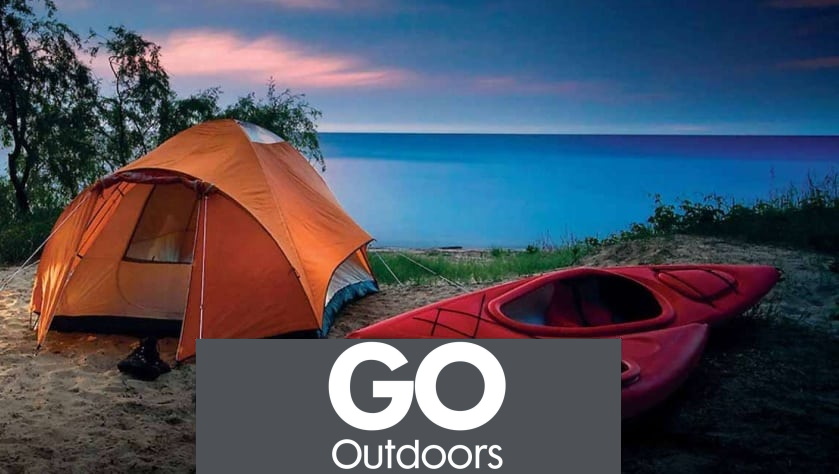 NHS Discount Guide for Go Outdoors
The adventure never stops when you shop with Go Outdoors!
If you've been feeling a bit more adventurous lately and you'd like to also have some great comfort while you explore. Go Outdoors could help you!  Go Outdoors is a great place to go if you're looking for camping gear, tents, outdoor clothing and footwear.
You can shop with them in-store or online. Whichever one suits you. However if you choose to shop in-store then you could have the help of their amazing staff throughout your trip. They are trained to know what they are selling and help you make the right decision. So we'd definitely recommend a store trip if you aren't too sure what you're looking for just yet!
We wouldn't dream of you not getting a great discount either. So if you're interested in Go Outdoors, then you should check out our offers. These should be located at the top of the page. We also make sure that these offers are always being constantly updated so you can just enjoy your savings.
If you aren't currently interested in any of our deals then that's alright. But we do urge you to check back with us regularly, as we have the most up to date deals. You can make it easier to check back to this page by bookmarking or pinning your current tab. This way you can get all our deals at the click of a button!
Frequently Asked Questions:
Do Go Outdoors offer an NHS discount?
Go Outdoors are currently offering a 10% discount for those who have a Blue Light Card. NHS staff should be eligible for a Blue Light Card, so they could be in luck to get this great discount.
If you're working for the NHS currently and don't own a Blue Light Card, then we'd recommend getting one! It's easy to apply for one and once you have it you'll be able to start saving. There are so many brands which you could start saving on today!
Do Go Outdoors offer a Blue Light discount?
Yes, Go Outdoors are currently offering a Blue Light discount of 10%. Meaning those customers who are eligible could get a big saving.
If you are a member of the NHS or emergency services then you could be eligible for a Blue Light Card. If you don't currently have one it's very easy to apply, just simply register on their website as a new user. Once you have your account you'll be able to save money on so many different brands.
Do Go Outdoors let dogs in?
Yes, you can bring your dog into the shop with you at Go Outdoors. You will need to make sure that they are well behaved and on a lead of course. But as long as these conditions are met, then you and your K-9 buddy are free to browse to your heart's content!
How long does a Go Outdoors card last?
Go Outdoors offer special discount cards for their regular shoppers, which give discounts in store. These cards last 12 months and so a new one will need to be bought after this period, if you want to keep saving. We also recommend getting one of these cards if you're buying quite a few items from Go Outdoors as it will help you save money in the long run.