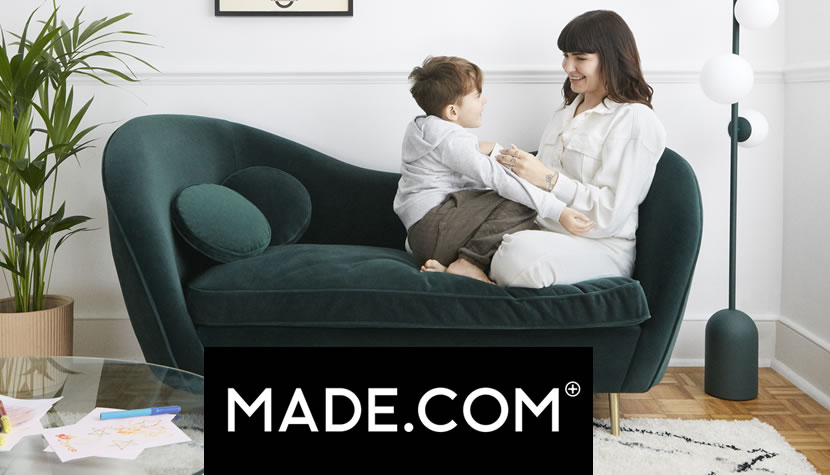 10% Discount off EVERYTHING at Made. com
Save 10% Discount at the checkout when you using our exclusive code.
Made.com NHS Discount
Whether you need new pieces of furniture for a whole house or just to replace an old armchair, finding contemporary items at a pocket-friendly price is often near impossible.
In a world where expensive furniture shops tend to rip off even your last penny, Made.com was born to make a statement.
With showrooms in Redbrick, Birmingham, and Soho, as well as an intuitive online store, the brand proposes a range of high-quality furnishings at more than affordable price tags. Curious to find out more about them? Check out our review below.
Made.com is a furniture brand focused on realising modern pieces at affordable prices. Their models come in different styles, including classic, Scandinavian, retro, modern, industrial, and essential.
In other words, finding the right coffee table for your living room, a cosy sofa, or a comfortable bed in the style you like most shouldn't be difficult.
The company works closely with family-owned businesses in Europe and Asia to provide the highest standard furniture as well as decorative objects, pet furnishings, and furniture for the outdoors and businesses.
Unlike mass-production companies, Made focuses on small batch production. Their styles are experimental and tune into everyone's needs. In other words, if you buy an armchair from them, it's unlikely you'll spot an identical one at your friend's.
And while Made doesn't have brick and mortar stores, it does have showrooms in several UK cities as well as selected cities across Europe, where not only you can see and touch the items, but also ask for advice and fabric samples.
Who is Made.com Suitable For?
Made.com is suitable for everyone looking for original, contemporary furniture for their home or garden. Uniquely designed pieces blend in all interiors. The selection of colours ranges from soft pastels to bold choices, including petrol, turquoise, or even green and yellow.
The use of luxurious materials, such as leather and velvet, adds a touch of style – both materials add warmth and elegance to the interiors. Obviously, you can also choose from a variety of different styles.
Besides interior and exterior décor items, the brand also proposes a range of lifestyle items that vary from suitcases and carry-ons to bikes, pet accessories, bags, backpacks, and other useful things of eclectic inspiration.
Finding cheap furniture is hard. Finding affordable quality furniture is near utopia – with a few small exceptions.
Made.com is one of those exceptions. Besides affordable prices, you can also find a lot of periodical discounts for most products, and many heavily discounted items in the clearance section of the website.
By joining the newsletter, you can also unlock a £10 off discount on your first order, as long as your basket is over £50.
Furthermore, the company runs regular promotions, and you can also find interesting discounts in the voucher section of the website.
Discounts are not all the perks you can expect. An engaging blog offers fresh ideas and plenty of interior design inspiration you can implement in your home.
Made.com truly is a unique furniture store. Boasting an eclectic soul but addressing all consumers, it proposes beautiful furnishings, decoration items, as well as lifestyle accessories that are hard not to love. Affordable prices and quick order delivery are other highlights.
If you're the kind who loves to see before buying, you can also visit the showrooms. This store might not be for you if you want to walk home with a new chair right off the bat, but it definitely is if you want unique pieces and don't mind waiting a few days to get them. Made.com truly impressed us, and we can only recommend it.