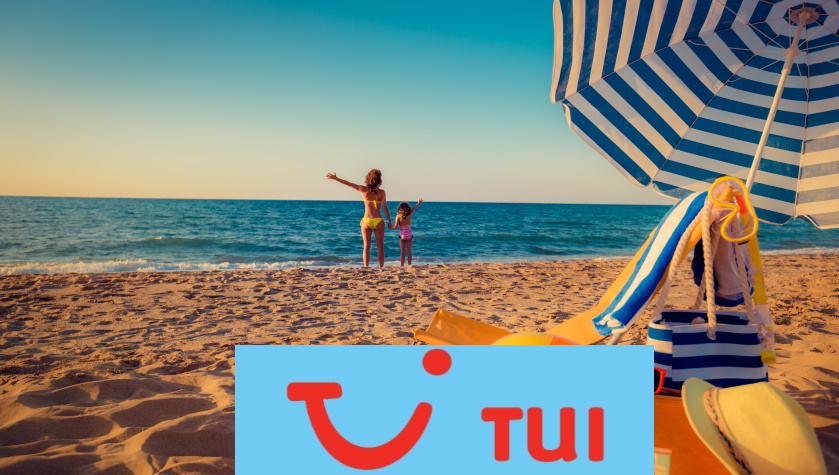 TUI's "NHS heroes" initiative is a heartfelt acknowledgment of the healthcare sector's unparalleled service.
By offering exclusive deals and promotions tailored specifically for NHS workers, TUI aims to give back to these heroes, allowing them to rejuvenate and unwind on a much-deserved holiday after their tireless service to the community.
Do NHS get discount on TUI?
NHS staff do get a discount on TUI holidays and flights. TUI introduced the Holidays For Heroes Scheme which enables fully verified NHS staff to get discounts on their holiday bookings.
The amount of discount is dependant on the cost of your holiday. It's a great way to save money on your holidays and hotels.
Is there a TUI discount code to use for NHS staff?
Yes. You can get up to £250 NHS Discount with TUI when you book through the TUI NHS discount scheme. Its called Holidays For Heroes and it enables NHS staff in the UK to claim up to £250 off your next holiday in 2023.
To get the discount just follow the Holidays for Heroes instructions here. You will need to search for your holiday and if your criteria matches an eligible discount you will be awarded money off for being an NHS member.
TUI regularly release discount vouchers – The codes listed above can help you save up to £250 on your holiday. Plus there are a range of codes to use on hotels, cruises and breaks for the family.
Take advantage of generic offers. For example, don't forget to use the 'Kids go FREE Offers' – TUI has a number of selected hotels where the kids can go free. Great for family holidays away!
Flexibility is key – if you are flexible with your dates of travel then shop around for the best price. Certain weeks are more expensive than others. So if you can book a week off work then book it when the prices are cheaper
Use the TUI App, allowing to Search and Manage Bookings – you can pick up additional offers and deals by signing up to the TUI newsletter.
If you search for a NHS holiday through the TUI website and don't use the dedicated NHS TUI website, then you can use any discount code to save money. If you shop for a holiday direct through the dedicated TUI NHS holiday website then your £100 NHS discount will be automatically applied at the checkout.
Once you get a code for TUI holidays or flights its time to use it. Please read the full terms and conditions of using the code as well as the cancellation policy. There may be a number of reasons why you have a TUI discount code, listed below.
You recently cancelled your holiday with TUI and been issued a refund credit.
You have been provided with a discount code for TUI Holidays.
Next find your holiday or vacation and press the yellow 'Continue' or 'Book Now' button.
Enter your code and click the blue 'APPLY' button. You are allowed one discount code per booking.
See the image below for details on where to input your code: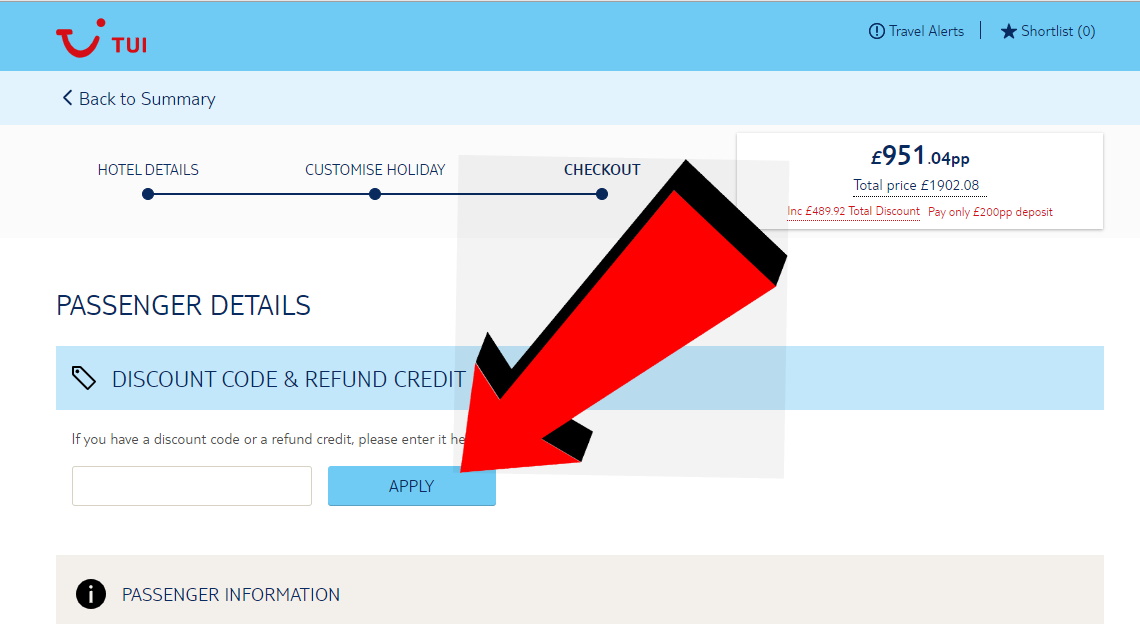 TUI NHS discount blue light card deals
Recognizing the relentless dedication of frontline workers, TUI has partnered with the Blue Light Card scheme to offer special discounts to NHS staff and other emergency service professionals.
This initiative ensures that those who serve our communities tirelessly can enjoy well-deserved breaks and vacations at a more affordable rate, celebrating their invaluable contributions.
TUI NHS holidays
Renowned for its wide range of holiday offerings, TUI curates experiences that cater to various travel preferences. Whether it's an adventurous trek through exotic landscapes, a family resort holiday, or a romantic getaway for two, TUI holidays ensure memorable experiences for everyone.
Their all-inclusive packages, last-minute deals, and carefully selected destinations make them a preferred choice for many travelers.
TUI discount code for 2023 and 2024
As the calendar turns, TUI continues to refresh its promotional offerings. The TUI discount code for 2023 promises travelers exciting opportunities to save on their holiday bookings.
Those looking forward to their next adventure should keep an eye out for this year-specific code to get the best deals on their 2023 travels.
NHS holiday discounts
In recognition of the sacrifices and contributions of NHS workers, various travel and holiday companies have introduced special NHS holiday discounts.
These offers range from reduced holiday packages to discounted flights and accommodations, ensuring that those who have given so much to public health and safety can enjoy their time off in the best way possible.
How do I find discounts on the TUI website?
To access the NHS discount on your TUI holiday, just follow the link above "GET DEAL" and this will take you to the dedicated website for TUI holidays with NHS Discount. You will need a valid NHS email address when booking your holiday. This will allow you to make use of the amazing TUI NHS Discount and to confirm your NHS working status.
There are still other ways to save, for example, finding a 'kids go free hotel' using the TUI booking engine or taking advantage of the TUI codes listed above.
Over the years the company has over 2,000 hotels and destinations for its customers to choose from online, combined with plenty of added value and possibilities for all budgets, and it seems the company is going in the right direction, with the BBC reporting a 10% rise in profits over last year.
With over 20 million holidaymakers worldwide choosing their services, 1,600 travel agencies, six airlines, and as the UK's leading travel brand why not give TUI are certainly after your business.
When it comes to arranging the perfect holiday there are few who are as experienced and knowledgeable as TUI.
Whether you like to book your holidays at one of their holiday shops, use their website or even book on their app, there are plenty of ways to find your ideal holiday destination.
Of course, its not only your normal flight and package holidays that let you use your discount code.
TUI also offers Cruise Packages to all your favourite destinations. In fact we particularly like their cruise deal on their flagship liner the Marella, which tours the Caribbean. Make sure you check above to see if there's a discount code or deal you can use.

All of the TUI hotels are handpicked and they've even designed the full hotel experience with TUI Sensatori, which is all about luxury, whilst TUI Sensimar has been created just for the adults.
There are plenty of other TUI categories that make it all the more easier to narrow down your perfect getaway.
Each of the TUI holidays is a tailor-made experience and their portfolio ticks off everything from beach holidays and city breaks, to mountain and adventurous getaways.
There are over 5,000 combinations to choose from so you're guaranteed to find something that suits your tastes.
What deals are available for NHS Staff?
All our available discounts and promotions for Health Service staff listed above. All the TUI NHS Discount holidays are the same as you will find on their main website, but obviously are cheaper as you get a huge £100 discount.
You can also still get a great deal on your holiday if you shop through the main TUI website. The best online offers for the TUI brand will hopefully save you some money. We've had some awesome offers recently with savings of up to £250 using an online code.
If you need some reassurance when booking a holiday then you'll be happy to know that 'TUI have recently been voted the most eco friendly airline in the world' . Their state-of-the-art 787 Dreamliners have transformed long haul holidays – so those long-distance trips don't feel as long anymore.
The company rose to popularity thanks to their famous offer of 3 and 4 night holidays in Majorca for only £19 became public.
Several other similar holiday offers meant that the company witnessed extraordinary growth in the winter sun market and it continues its success to this day.
If you're looking for a short or long break, TUI can help you find the perfect holiday to suit your tastes and there are a variety of discounts for you to choose from.
Regardless of what you want from your holiday, the company emphasises great value, it strives to provide you with low cost flights and the best overall deal possible, without any additional costs.
If you're looking for a holiday that isn't going to drain your wallet then this is definitely a provider that will suit you.
TUI has built a reputation on giving its customers what they want and because of this they continue to be a popular choice for people who want to book a trip. As a result there are literally thousands of deals to be had if you put in the research.
But it's possible to save even more money with the best promotional codes and offers, and here at NHS Discount Offers we always bring you the very latest deals that help you get more for your money.