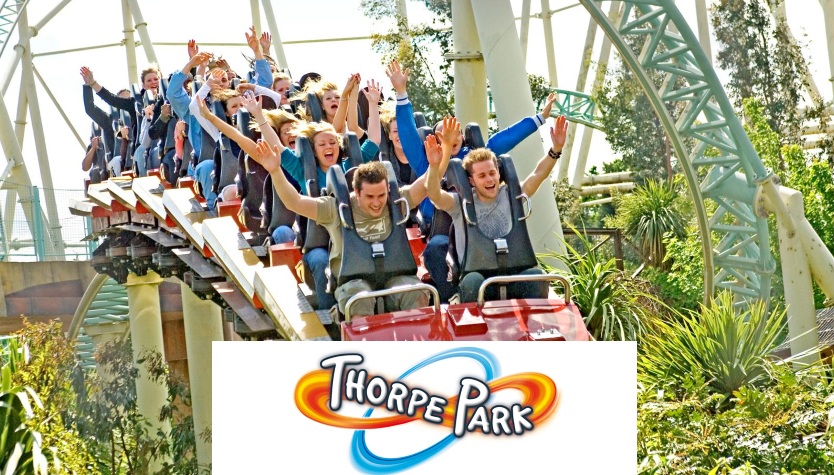 NHS DISCOUNTS AT THORPE PARK
If you're partial to a bit of thrill seeking then Thorpe Park is an ideal destination for you, the family and friends. Its a British Institution!
You can find your NHS Discounts at Thorpe park below! There is Discount not to be missed. Sign up below to get access.

2022 Holiday Sales!
Thorpe Park are now offering money off 2022 bookings!
Built in 1979, Thorpe Park was intended to be an educational theme park. Today it's a place for fun and thrill seeking, but still suitable for the whole family. As well as the scarier roller coasters, there is also a great selection of water-based rides that are ideal for summer adventures, from the banana ride for children, to Neptune's Beach.
This British theme park is the nation's go to destination for thrills, whether you love a rollercoaster or want to face your fears with the SAW ride or Derren Brown's latest psychological rollercoaster, there's guaranteed to be something for every adrenaline junkie.
Does Thorpe Park offer discounts to NHS Staff?
At the moment, Thorpe Park does not offer a specific NHS discount.  If this changes, we will post an update here so be sure to check back regularly to make sure you don't miss out on any changes. In the meantime, we will continue to bring you the latest deals and discounts to help you get the best price on your next break to Thorpe Park. Keep reading to find out more.
Yes! NHS staff and emergency workers can save money and get a discount with Blue Light Card.
Blue Light Card members can currently get a discounted price on entry tickets to Thorpe Park. To find out more, members simply need to log in to either the app or website and search Thorpe Park. You'll then find all of the current offers and savings available to Blue Light Card members. Head to Blue Light Card to find out more.
How can I get a discount at Thorpe Park?
There are a number of different ways to get a discount and save on your next visit to Thorpe Park. While on this page we highly recommend checking the top of this page for the latest offers and discounts. We will update this page regularly as we become aware of new offers.
If you are planning an upcoming trip, we highly recommend booking tickets in advance through the Thorpe Park website. By booking your tickets online in advance, you can save 37% on your ticket price. This is a easy way to save big on your next visit. While on the Thorpe Park website, we highly recommend signing up to the free Thorpe Park newsletter. You'll get updates on the latest Thorpe Park news and upcoming events. Along with that, you'll also be one of the first to hear about upcoming offers and discounts to help you save more money.
With so much to do at Thorpe Park, why not consider making the most of the 2 for 1 entry offer? By booking an overnight stay at the onsite Thorpe Park Shark Cabins, you'll get 2 days entry to Thorpe Park for the price of 1! This is a great way to make the most of your next stay while also saving you money. Along with 2 for entry, you'll also get access to a number of other benefits and savings. These benefits include a free breakfast, free car parking and free WiFi.
Thorpe Park currently offers 60% off tickets if you are a student. They are also offering NHS staff up to 25% Corporate discount when you book online! Super savings for super savvy NHS staff.
There truly is something for all the family and there's even accommodation if you're looking to make a day or two of the occasion.We take pride in bringing you the very latest promotions and discount codes in order for you to get even more for your time at Thorpe Park. Whether you're looking for reduced ticket prices or special promotions, make sure you visit our site first before booking anything!
Thorpe Park NHS Discount
One of the UK's favourite resorts, are you ready for a fun packed day at Thorpe Park?