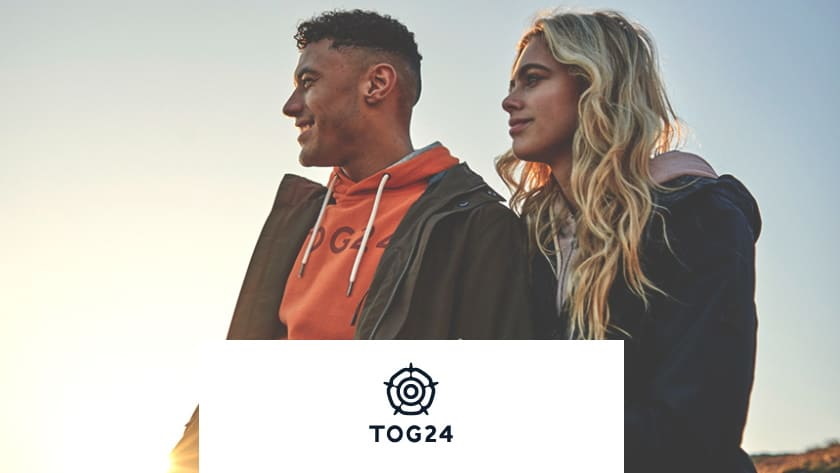 20% Discount for NHS
Use the discount code to save 20%
TOG24 NHS Discount
If sporty-casual wear is your thing, then you probably know that finding a brand the produces quality, yet affordable clothing is not easy. More often than not, you'll have to settle for one of the two. And if you have a lower budget, than often means you'll get mediocre quality at most. Or you could turn your focus to TOG24.
The family-owned brand pampers consumers since 1958. Based in West Yorkshire, but with stores all across the nation, the company addresses men, women, and kids.
If you don't feel like shopping in a brick and mortar store, the online variant of TOG24 could suit your needs. Read on to find more about it.
TOG24 Product Range
TOG24 has been in the textile industry long enough to prove that it has what it takes to create casual clothing for pretty much any age group. Their product range comprises a wide selection of men's and women's wear, kids' clothing, as well as shoes and accessories.
You can find casual and sportswear in all categories, be it tops, bottoms, or undergarments. If you want to buy matching tops and bottoms, you can easily browse the various collections from the brand.
No matter your choice, rest assured that you can easily find models and sizes for all tastes and body shapes.
Accessories go from small essentials like socks to bags and suitcases. We particularly like the selection of hats, scarves, and gloves that can successfully complement pretty much any outfit.
TOG24 Perks
Like most online stores, TOG24 comes with a variety of perks. Its greatest highlight is the Outlet section of the website, where you can find discounted items all year round. And when we say discounts, we talk about figures as low as 70% off the original price.
If that's not enough – of if you want discounts on the latest collections – you can simply subscribe to the newsletter to get exclusive deals straight to your inbox.
Exclusive deals also include 10% student discounts –  we provide a new 20% discount to NHS, Emergency Services, and Social Care workers.
If you're looking for corporate teamwear, you will be pleased to know that TOG24 also provides bespoke garments.
Perks also include free standard delivery on all orders as well as late payment with Klarna.
Our Verdict
TOG24 is undeniably one of the best casualwear brands in the UK. Their range covers everything, from men's to women's to kid's clothes, from summer to winter wear. A selection of accessories and shoes bring further value, making it easy to shop for everything you need in just one place.
Quality is superlative, and the store impresses with low prices compared to its peers. Free delivery and hassle-free returns are other things that make it a great choice.
Last but not least, the brand is run and owned by a family in West Yorkshire. In other words, shopping from them means supporting the local economy. More than enough reason to check it out.