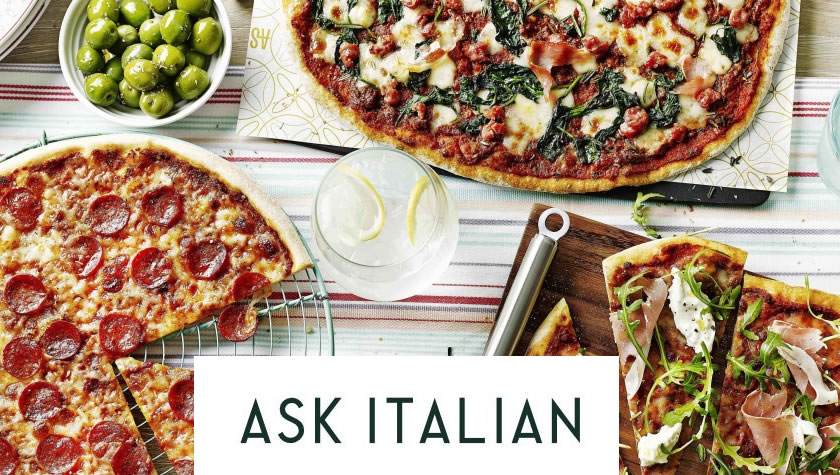 Ask Italian is one of the UK's most popular high street restaurants. An ideal post-work pit stop or an affordable night out for the family, if you're a fan of Italian cuisine then be sure to give Ask Italian a try.
But there's one question we want to know? Do Ask Italian offer an NHS discount for staff? We gave them a message on Facebook.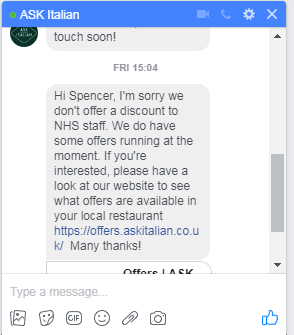 So there you have it – the official line is that there is no discount for NHS Staff. 
But you may be able to pick up a generic offer from their websites.
We'd like to know – have you ever had an NHS discount at ASK Italian Restaurants?
Who are Ask Italian?
They offer everything from classic pasta and pizza, to an array of salads, meats, and fish dishes. So whether you're a fan of pizza margherita or a sucker for Bolognese, they're guaranteed to have the dishes you love.
What's more, you don't have to spend a huge amount of money to enjoy your time as Ask Italian.
There's a wide range of special offers and discounts available that allow you to enjoy your time for less.
From 2 for 1 deals to discounted main courses, there's guaranteed to be something for everyone.
To make sure you enjoy your next trip to Ask Italian for less, make sure you swing by us first for the latest deals!
How do you rate Ask Italian?