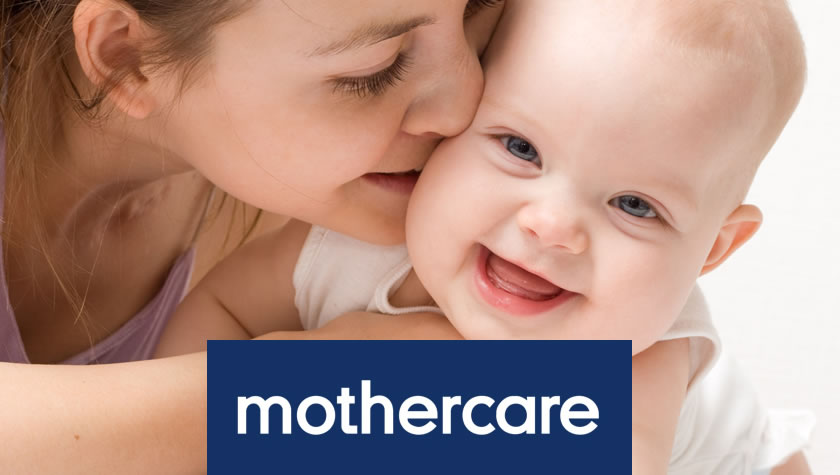 We've all been to Mothercare for our baby needs.
That still remains the central ethos of the Mothercare business today, which is why we have the highest customer recognition of any brand in our market with 91% of newly-pregnant women shopping with us.
There are a wide range of offers and discounts of up to 50% to claim for our members- The discounts change daily, so check back for all the latest deals! Plus you can also have FREE returns to any store saving you on the postage!
When it comes to child and baby products, every mom wants to ensure they get the best quality while also getting a good deal on the price. While you can get child and baby products from many retailers, there is one specialist retailer that has become hugely popular over the decades – Mothercare.
A well-known name on the High Street, this has become the go-to place for millions of mothers around the UK over the years.
Many mothers choose this retailer because of the excellent choice of products offered as well as the superb quality and variety of popular brands.
You can get some great deals and prices on items, which is something that all new mothers want to benefit from. You can also benefit from free advice and information via the online Mothercare website, which can prove invaluable to new mothers.
Why We Love to Shop at Mothercare
There are numerous reasons why moms love to shop at Mothercare.
This retailer has become one of the best-known children and baby retailers in the country, and it has developed a solid and impressive reputation for quality and service over the years. Some of the reasons behind its popularity include:
·         A wide range of baby and toddler products
·         Excellent quality
·         Great deals and prices
·         Many special events and offers
·         Great levels of service
·         A solid High Street presence
·         Online shopping facilities
·         Over half a century of experience in the industry
Some of the Products Available at Mothercare
Whether you are a first-time mom, or you already have children, you will find that Mothercare has everything you need for your little one. Some of the products you can purchase from this popular retailer include:
·         Maternity clothing
·         Baby and toddler clothes
·         Nursery furniture
·         Baby bedding
·         Pushchairs
·         Feeding products
·         Toys
·         Car seats and carriers
·         Bathing and changing products
·         Gifts and gift cards
With this wide range of goods, mothers-to-be and new moms can find everything they need for their little ones at Mothercare.
More about Mothercare
The history of Mothercare dates back to the early 1960s, when it was founded by Selim Zilkha and Sir James Goldsmith.
Since then, the retailer has built a solid reputation and gone from strength to strength.
It now sells a huge range of products for mothers and babies and has become a familiar sight in shopping centres and on the High Street. Many parents turn to this retailer to purchase items in the run-up to or following their baby's birth, and they know they can expect great quality as well as competitive pricing.
Great Deals for Mothers Across Britain
Shopping at Mothercare makes it easy for mothers across Britain to enjoy a great deal on the cost of their maternity and baby items.
You can shop in-store or online, and there are regular special sales events that can help to cut the cost of buying baby products. You also have the peace of mind that you are purchasing from a reputable retailer that offers excellent quality and great service.
Mothercare Babies
 Mother Care Range with Myleene Klass
Great Clothing for Babies and kids!
Check out all the latest offers from Mothercare today. With over 50 years experience, they are one of the best places to shop for baby and children's items.