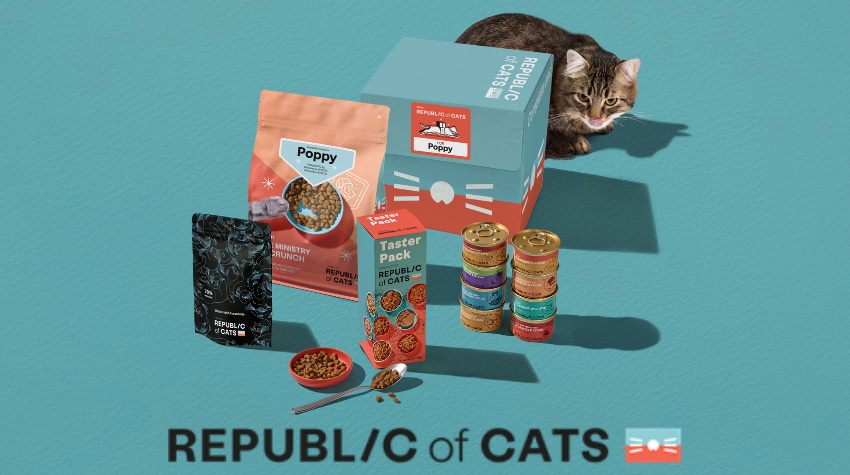 Want to know how to get NHS discount with Republic of Cats?
Finding food that is nutritionally good and tasty to your cat can be a challenge. That's where Republic of Cats comes in. With their personalised feeding plans, you'll get a monthly box tailored specifically for your cat and any health and dietary issues they may have. Not only will they love meal time, but you can be confident that you are providing them with the best food to get them healthy and happy.
Does Republic of Cats offer NHS discount?
Yes! The lovely people at Republic of Cats has provided NHS Discount Offers with an exclusive offer for NHS staff to use. By using our discount code, you can get 2 weeks worth of food for £2.50! Republic of Cats. To redeem this discount, simply click the offer at the top of this age to get your discount code. Then head over to the Republic of Cats website to order your furry friend a box of yummy food.

How can I get a discount at Republic of Cats?
Besides using our exclusive discount code at the top of this page, there are a number of alternative ways to get a discount at Republic of Cats.
Are you a new customer? New customers can get a 80% discount on a taster box. This offer is perfect for new customers to trial a 2 week box before making a decision to purchase a monthly box. Be aware that this discount can be used for up to 2 cats per customer.
Another way to keep up to date with any offers and discounts is to follow Republic of Cats on their social media pages on Facebook and Instagram. By following these pages, you'll stay up to date with the latest news and any upcoming offers. Alternatively, you can keep an eye on this page for any discounts as we will update this page as often as possible with any new offers and discounts.
How does Republic of Cats work?
Republic of Cats offers personalised feeding plans just for your cat(s), based on their needs and favourite foods. Simply visit the Republic of Cats website and answer a few important questions about your cat(s).
Not only does Republic of Cats consider your cat(s) favourite foods, but it also caters for a range of dietary and medical conditions.  From skin and coat issues to joint issues, your cat(s) dietary plan will be chosen specifically to help any concerns. Republic of Cats can also provide special diets for a number of medical conditions including but not limited to diabetes, urinary conditions and gastrointestinal issues. Do your cat(s) have any allergies or intolerances? You'll be able to let Republic of Cats know to make sure your pets new diet is suitable and won't upset their sensitive stomachs.  For more information, including the dietary and medical conditions supported, be sure to head to the Republic of Cats website.
Once you have answered all of the questions, you'll be able to choose your ideal mix of wet and dry food. You'll then receive your cat(s) personalised feeding plan along with information to help you find out more about your cats new tailored diet.
Does Republic of Cats offer free delivery?
Yes! Republic of Cats offers free delivery on each box every 30 days. For more information, head to the Republic of Cats website.