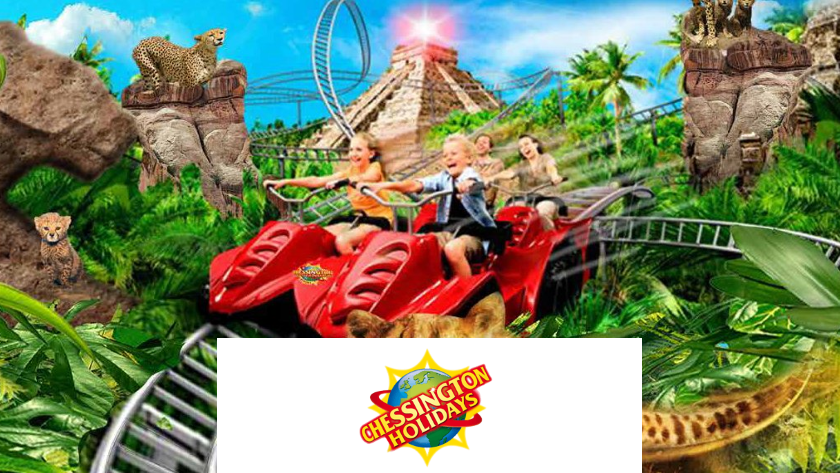 Chessington World of Adventures NHS Discount
If you are looking for a great family UK break, then look no further than Chessington World of Adventures, who we are proud to announce have joined up with NHS Discount Offers.
With so many theme parks and resort hotels throughout the United Kingdom, choosing the right holiday for your family can be confusing. A Chessington holiday offers fun for kids and adults alike, with 2 themed hotels and a theme park there's plenty to explore!
The Chessington Azteca resort is extremely popular. Discover hidden gems in the ancient temple, or you can enjoy views of the mysterious temple ruins! Or you may prefer the Chessington Safari Hotel, with some exciting themed rooms that you can use as a jungle base camp!
Does Chessington do NHS Discount?
Unfortunately, Chessington does not offer a specific NHS discount at the moment. If this changes in the future, we will post any updates here. In the meantime, you can find all the current discounts and deals at the top of this page. You can also continue reading to find out more about our top money saving tips.
Does Chessington accept Blue Light Cards?
Yes! NHS staff and emergency service workers can get a discount at Chessington through Blue Light Card.
Blue Light Card members can currently get a discount and save money on entry tickets for Chessington. To find out how much Blue Light Card members can save, members simply need to head to the Blue Light Card app or website and log in. Then just search Chessington to find all of the current offers and discounts available.
Do you get an NHS Discount on Merlin passes?
At the moment, Merlin does not offer an NHS Discount on the Merlin passes. Be sure to check back often for any updates. In the meantime, the best way to secure a discount is to sign up to the Merlin Newsletter on the Merlin Annual Pass website. This will ensure that exclusive offers are sent straight to your inbox.

What is a Merlin pass?
A Merlin Pass is a passport that gives you year-long access to some of the UK's biggest and greatest attractions. This pass gives you access to a number of attractions including; Chessington World of Adventures, LEGOLAND Windsor, Alton Towers, Thorpe Park, and Sea Life Centres. A Merlin pass does cost more than typical tickets for the attractions included. It can still be a great way to save money long term especially if you are planning on visiting a few times a year.
There are 3 different Merlin Passes available that are perfect for every budget. With the cheapest option, you can get weekend entry to all attractions. All other options unlock the attractions almost all year. You can read more on the Merlin Pass website.
How can I get a discount at Chessington?
All of the best offers currently available to help you save money at Chessington are listed at the top of this page. Along with checking back often for the best offers, there are a number of things you can do to increase your chances at securing a discount.
The first thing you can do is to sign up to the Chessington World of Adventures newsletter. Simply head to the Chessington website and enter your email. As well as being one of the first to hear the latest news, you'll also get the latest exclusive offers sent to your inbox.
While on the Chessington website, we highly recommend checking the Offers and Packages section if you are considered turning your next visit into a short break. By choosing a short break, you can benefit from a range of offers including 2nd day free. This is ideal to save money while being able to enjoy everything Chessington has to offer for two whole days.
Alternatively, if you know when you are visiting Chessington next, consider booking your tickets in advance online. By booking online in advance, you can get a discount of 37% on your entry tickets compared to purchasing at the gate. This also guarantees you entry on your chosen day(s).
How do you get free tickets to Chessington?
If you live near Chessington with an eligible postcodes KT9 1, KT9 2 and KT22 0. Send an email with proof of name and address to prove you are a local resident. Email address can be found on the Chessington website. Once they have verified you are a local residents, you'll get 4 unique booking codes which can be redeemed for a 1-day entry ticket.